For PC's top teacher, music is the medium for making the world better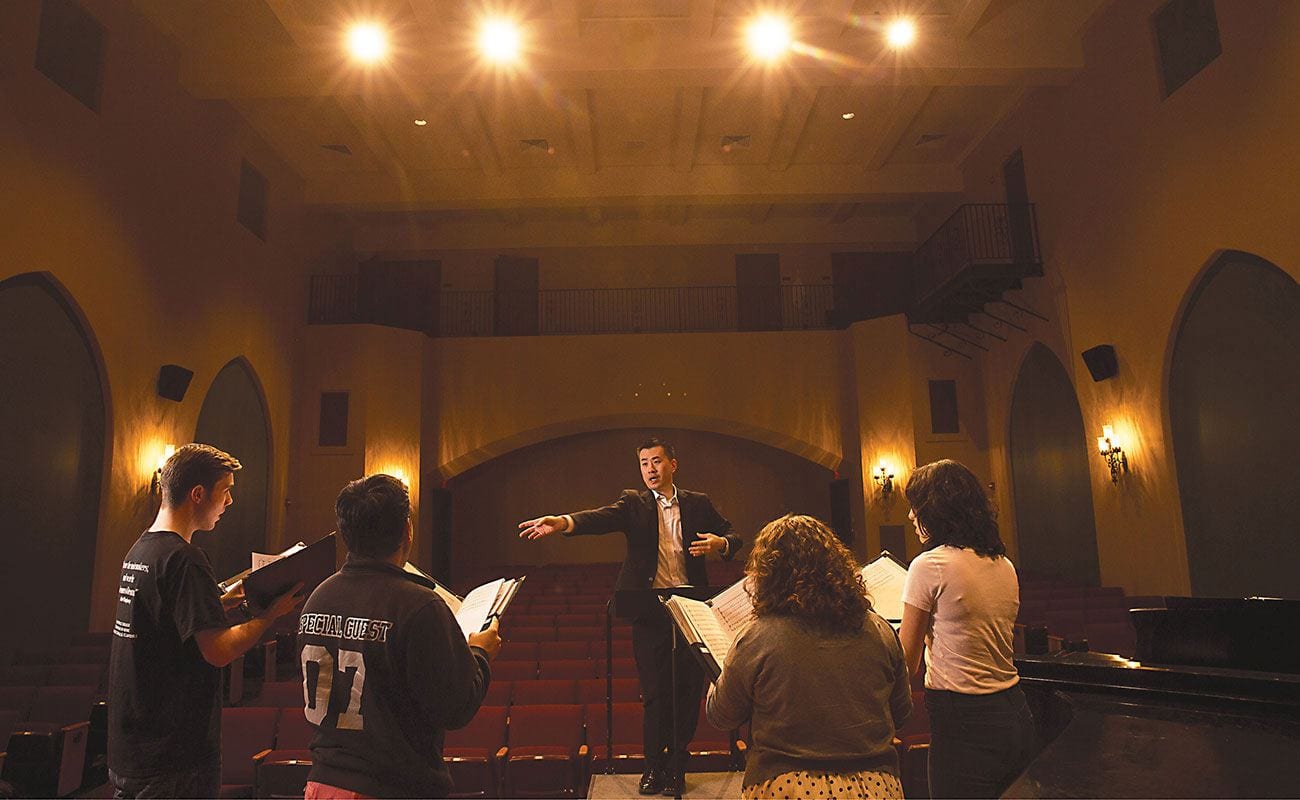 By Vicki-Ann Downing
If you ask Dr. T.J. Harper, recipient of the top teaching award at Providence College, what he likes best about teaching music, he will tell you that it's a way to make people feel welcome and valued.
"For me, it really is about contributing to the common good and making the world a better place," said Harper. "Music is the medium."
Harper, who joined the faculty in 2009, is associate professor of music and director of choral activities and music education. He is the recipient of the 2015 Joseph R. Accinno Faculty Teaching Award, PC's top teaching honor. In November 2015, he was named Professor of the Year for Rhode Island by The Carnegie Foundation for the Advancement of Teaching and the Council for Advancement and Support of Education.
In addition to teaching Conducting and Secondary Choral Methods, Harper directs two student choirs — I Cantori, a 22-member group selected by audition, and Concert Chorale, a 58-member group open to all students. The groups have dubbed themselves "FriarChoirs."
"I like it when students who are marginalized find a place," said Harper. "We've had two transgendered students and two others from the LBGQT community. We're a place for everyone."
Harper was adopted from Korea when he was 2 years old. His four siblings were adopted as well, including a sister from Korea and three biological brothers from Puerto Rico.
"My mom gave a child up for adoption before she was married and my dad was adopted," said Harper.
Harper lived in Somerset, N.J., until he was 13, when his father's work took the family to California. He sang in his first choir at age 6 at Christ Church in New Brunswick, N.J.
"My sister and I were active in the church and my parents were looking for a way to get us more involved," said Harper. "It was a children's choir. It was my first official training, and it was in the high Episcopal tradition."
But in high school in California, Harper only played soccer.
"Singing was not cool and I wanted to be tough," he said.
At California State University in Fresno, Harper began studying for a bachelor's degree in psychology. The summer before his senior year, he changed his major to music. He then earned a master's degree in choral conducting from California State University in Northridge and a doctorate in musical arts from the University of Southern California. Between degrees, he taught at a high school and a middle school.
The focus of Harper's study was vocal performance and choral conducting, not singing. He took his conducting examination in front of a choir of 80.
"Singing is a hefty requirement for the degree," said Harper. "I sang in three different choirs and conducted two. But I didn't have the personality to compete for opera."
"Even studying psychology, I knew I wanted to work with people," he said. "Being with people for a positive impact was important to me."
After teaching at a college in California for a year, Harper was hired by PC. His wife is a singer and pianist with a studio in Providence. Their families are based in California. But Harper said he felt lucky to move to New England.
Harper was nominated for the Accinno Award by faculty and students and won the first year he was eligible. The award is presented to the professor who best exhibits excellence in teaching, passion and enthusiasm for learning, and genuine concern for the academic and personal growth of students.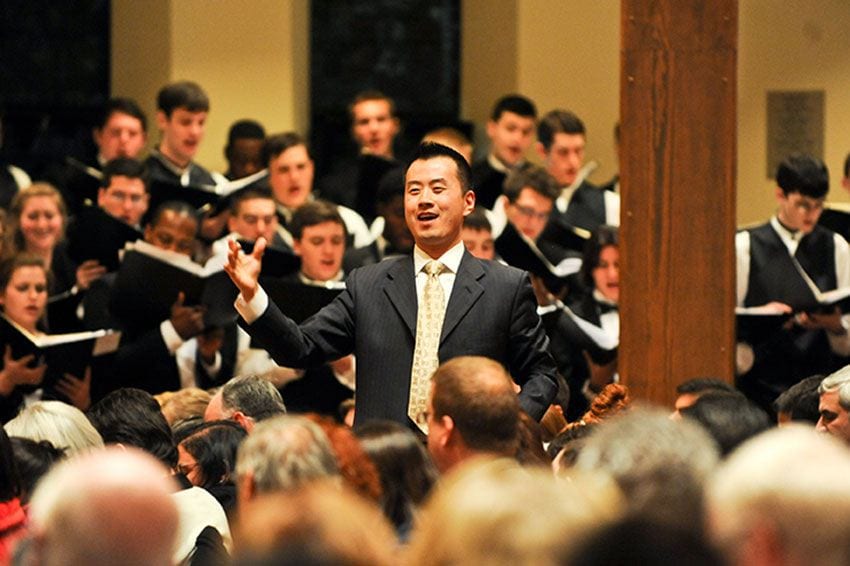 Eric Lebel '15, who is studying for a master's degree in earth systems science at Stanford University, was among the students who nominated Harper. He studied with Harper in the classroom, took private voice and conducting lessons with him, and sang with I Cantori. Even today, in graduate school, Lebel sings in choirs and takes organ lessons.
On his first I Cantori rehearsal, Lebel noticed that the singers were "obviously inspired by Dr. Harper to go beyond what is expected and to make music at a very high level. He has an uncanny ability to hear intricacies in the choir's sound, to get the singers to correct any mistakes, and to do it in an efficient, enjoyable, and satisfying way."
In private lessons with Harper, Lebel discovered the rigorous academic requirements of conducting.
"It is more than simply waving your arms in front of your ensemble and telling them they are doing well when they sound good," said Lebel. "I really began to take the time to seriously study conducting and rehearsal technique and made significant progress. He transformed my view on choral music in a way I never thought possible."
Harper brings out the best in his students, agreed Sadie Ahlquist '17 (South Saint Paul, Minn.), a psychology major and member of I Cantori. Last summer, she joined Harper and 24 student singers on a 10-day performance tour of Vienna, Salzburg, and Prague.
"He's a brilliant director," said Ahlquist. "Our program isn't that big compared to other schools, but we have so much talent. It comes from his directing and how he gets us to blend. He makes us a cohesive group. He's so passionate."
Beyond that, Ahlquist said, Harper makes students comfortable.
"Because I am so far from home, making connections was very important to me," said Ahlquist. "Choir makes me feel at home, and he has a lot to do with that. He's approachable, he's comforting, he's awesome, he does it all. He's a great person to go to with personal things. He's very open. He's a very important figure at PC for me."
Harper gets extraordinary results from his choirs even though they are able to rehearse only twice a week, on Mondays and Wednesdays, for an hour and 15 minutes each, with a 15-minute break in between.
"The average at schools is three hours per week; most do four hours," said Harper. "The University of Southern California does six hours. We do two hours and 30 minutes, and we are trying to pull off the same amount of vision and level of performance. We succeed because the students work really hard at whatever I give them. If I can teach it, the students can learn it."
The choirs sing a wide selection of music, Harper said.
"We hit all the styles to please me, the students, and the audience," said Harper. "I have to make sure I am providing enough for our music majors, but it has to be enjoyable to everyone else, too.
"At the end of the day, the success of the program belongs to the students. If there are mishaps in a performance, it's because the teacher failed to prepare them. You have to know the students' ability level, pick the right songs, and know the audience."
Every other summer, Harper takes students on an international trip to perform in some of the world's most majestic venues. In 2011, it was Italy; in 2013, Spain. After returning home last summer, he immediately began planning the 2017 trip.
Harper is on the road a lot, too. He travels with the choirs when they perform in New England and New York. This past year, he was invited to be conductor, adjudicator, and clinician at choral festivals in the United States, China, Thailand, and Argentina.
At PC, most of his music students are non-majors. Harper is also proud of the accomplishments of music majors, such as Eliza Mandzik '13, who studies opera in Vienna.
"We have a healthy music program," said Harper. "Our students want to do well, and they work hard. Our goal is to maintain numbers and increase quality as well as visibility."
As for the teaching award, "it's all because of the students," said Harper. "They are capable and they are caring, on top of their intelligence, hard work, and talent. I feel very fortunate to teach here."