A new chair in economics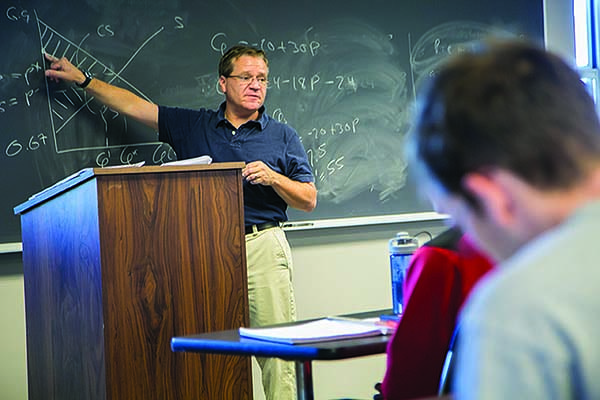 Dr. Leo H. Kahane, professor of economics, will become the first Michael A. Ruane Distinguished Chair in Economics on July 1, 2016.
The creation of faculty chairs is a priority in the Providence College Strategic Plan. Endowed chairs signal a commitment to quality scholarship and teaching while enhancing academic reputation and institutional prestige.
The economics chair is the College's third overall and the second endowed by Michael A. Ruane '71 & '13Hon. and his wife, Elizabeth. Dr. M. Cary Collins, professor of finance, joined the School of Business faculty in 2013 as the first Michael A. Ruane Endowed Chair for Innovation in Business Education. The Rev. Robert Randall Distinguished Professorship in Christian Culture was established in 2002.
Kahane is a graduate of Columbia University and the University of California, Berkeley. He has taught at PC since 2010 and is an expert in sports economics, applied economics, and international trade. He is the interim department chair.
"Dr. Kahane is an innovative educator and prominent scholar who will continue to provide superb leadership in this new role," said Dr. Hugh F. Lena, provost and senior vice president for academic affairs. "As Ruane Chair, he will serve as an invaluable resource for his fellow faculty members, students, and those who work with the economics department on collaborative initiatives."
Proceeds from the Ruane endowment will support the faculty position in perpetuity, allowing PC to enhance teaching, scholarship, and outreach in economics. Economics was Ruane's major at PC and is one of 40 undergraduate majors in PC's School of Arts & Sciences.