A music master class that's world class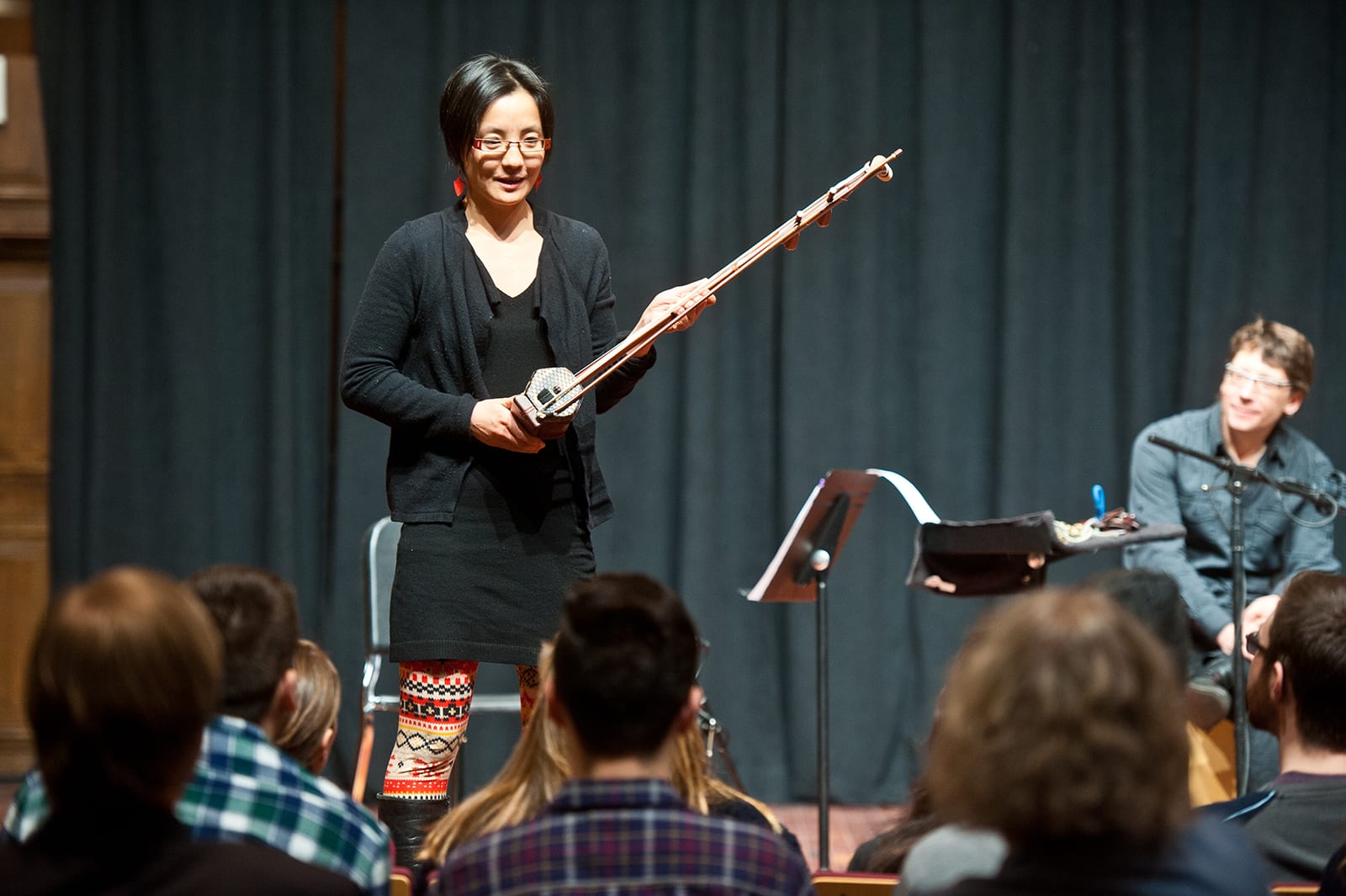 By Charles C. Joyce
Musician and recording artist Ed Sweeney '77 and four members of the world-renowned Silk Road Ensemble brought their love of music to Department of Music students and faculty recently in a master class in the Ryan Concert Hall of the Smith Center for the Arts.
Formed in 2000 by internationally acclaimed cellist Yo-Yo Ma, Silk Road is a collection of performers and composers from more than 20 countries. The ensemble describes its music as "contemporary and ancient, familiar and foreign, traditional and innovative, drawing on traditions from around the world." Silk Road has performed in more than 30 countries in Asia, Europe, and North America.
"These are world-class musicians," said Dr. T.J. Harper, associate professor and chair of the Department of Music. "At Providence College, there is a wonderful emphasis on Western culture and civilization. Silk Road Ensemble represents a wider connection to the world."
Sweeney, who plays the acoustic guitar and banjo, and Silk Road's Yang Wei, a pipa player from China, opened the class by collaborating on the Shaker song "Simple Gifts." The two have played together since 2006 in locations ranging from Rhode Island to Chicago to Taiwan.
"Everyone has a different musical journey," emphasized Sweeney, who was one of the first music majors at the College.
The ensemble members and Sweeney proceeded to discuss and play their instruments and relate their musical journeys for the next hour. Violinist Shaw Pong Liu, who recently returned from a trip to China as a teaching artist with Yo-Yo Ma at the Youth Music Culture Guangzhou, introduced the students to a two-stringed fiddle she plays, the erhu. Percussion player Shane Shanahan brought along more than a half-dozen instruments, concentrating at one point on the history and pitches of a cajone, a Peruvian drum.
Sandeep Das, an Indian tabla player who has performed with the New York Philharmonic Orchestra, told the audience he learned to play not by reading music scores but through memorization. Yang Wei touched on the history of the pipa, a pear-shaped instrument that has been played for more than 2,000 years in China.
Sweeney traced his longtime interest and involvement in music, mentioning many industry professionals and mentors, including faculty at PC. He noted, among other points of interest, that he was accepted to the College as a chemistry major and how, because of his love of music, he worked to overcome early struggles as a musician. He spoke about his family, about being a stay-at-home father and continuing to record music, and how he also worked on the finance side of the music industry.
"Allow yourself to explore all your passions," said Sweeney, who teaches and performs at the Blackstone River Theatre in Cumberland, R.I. "To me, my passion now is to continue to learn music, to learn the language."
Sweeney and Silk Road performed in concert later that evening in the Ryan Concert Hall.