Chants encounter: Unexpected connections help Joan Miller '18 research Stravinsky's discordant church music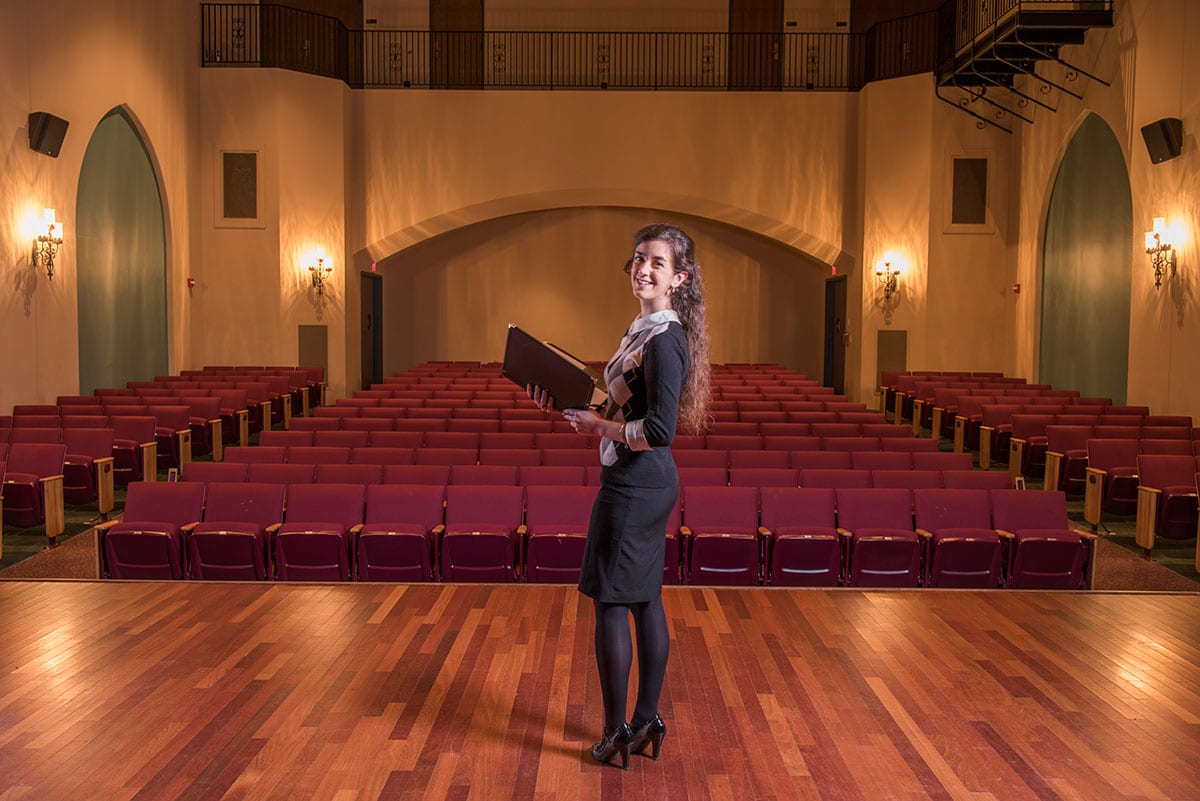 By Vicki-Ann Downing
Editor's Update: Joan Miller '18 will enter UMass Amherst to study for a master's degree in music with a concentration in choral conducting. She received a teaching assistant position to cover the cost of her tuition. At the Academic Awards Ceremony, Miller received the Reverend Leo S. Cannon, O.P. Award for excellent musicianship. She also graduated with the highest academic rank in both music and art history.  
On a beautiful July afternoon in Upstate New York, 250 miles from Providence College, Joan Miller '18 (Oakdale, Conn.) found the expert who helped solve her research puzzle.
Miller, who is majoring in both music performance and art history, was awarded $4,000 from Providence College's Veritas Research Fund to spend the summer analyzing the impact of Russian Orthodox chant on the compositions of 20th century composer Igor Stravinsky.
Miller traveled to libraries and musical archives at Brown University, the Boston Symphony Orchestra, Yale University, and the Eastman School of Music at the University of Rochester in New York. In Cooperstown, outside a café and market, she met Nicholas Kotar, a Russian hymnographer, musician, translator, and fantasy author, who was able to describe in detail the history of Russian chant music, which Stravinksy would have heard as a child.
"He explained that, unlike other traditions, Russian Orthodox liturgical practices stemmed solely from Russian folk music and the influence of the Byzantine church," said Miller. "It was my 'Oh, I get it!' moment."
Kotar's explanations helped Miller understand the discordant notes present in two Stravinsky compositions written as Catholic church music, Symphony of Psalms and Mass. She encountered the pieces for the first time when she was a high school student singing with the Eastern Connecticut Symphony Orchestra and Chorus.
"Stravinsky uses a lot of chords from folk music," said Miller. "You can hear the sounds. It's very distinctive. There are fifths stacked on top of each other. They don't sound harmonious. It brings a primal, primitive quality to the music."
Stravinsky wrote Symphony of Psalms between the world wars and Mass after World War II, when he was dismayed at the state of the world and wondering how such catastrophes could have occurred, Miller said.
"Latin emphasizes syllables. Stravinsky put the emphasis on parts of the beat that, if you were counting time, should not have stress," Miller said. "That brings you back into the text. You ignore what the meter tells you to do. Stravinsky didn't like that the emphasis was not on the text anymore."
Meeting Kotar was the highlight of her research summer, Miller said. She made the connection in an unexpected way. During spring break in March 2016, she traveled to Ireland with the Liberal Arts Honors Program. At breakfast one morning, as Miller sat surrounded by books, preparing her application for the Veritas award, Dr. Despina D. Prassas, associate professor of theology, asked what she was doing. When she explained about her research proposal, Prassas said she knew a Russian hymnographer who might help.
Miller's research mentor was Dr. T.J. Harper, associate professor of music, who also is teaching her conducting. In March, she will attend the national conference of the American Choral Directors Association in Minneapolis.
"I chose to come to Providence College because of the level of individuality that I knew I could attain — both the opportunity to work individually with professors and the ability to work on my own," said Miller. "I have done several independent studies since I've been here."
Research funding opportunities
Undergraduate Research Small Grant Program: This competitive program supports undergraduate scholarly research, creative, and/or artistic work during the academic year.
Summer Undergraduate Research Small Grant Program: The program provides funding for stipends and research supplies to help students conduct research and carry out creative projects on or off campus for up to 10 weeks during the summer under the guidance of a faculty mentor.
Walsh Student Research Fellowships: This summer research program supports students working in the Department of Chemistry and Biochemistry or the Department of Biology by providing them with a stipend, money toward lab supplies, and reduced on-campus housing rates.
Veritas Research Fund: This fund, which is awarded by PC's Undergraduate Research Committee and aimed at students outside the sciences, supports student research — under the direction of a faculty mentor — during the summer months.
Clare Boothe Luce Program: The Clare Boothe Luce Program at the Henry Luce Foundation supports scholarships in chemistry, applied physics, mathematics, or computer science for exceptional senior female students.
External Funding: Students often collaborate with faculty from across the disciplines who receive research funding from many external sources.