Accountancy class project approach sharpens students' real-world view
By Lauren Cotta '18
Once each academic semester, Dr. Sonia Gantman, assistant professor of accountancy, provides her accountancy students a valuable, real-world business experience through a hands-on term project.
In her course, Accounting Information Systems, a required class for accountancy majors, students work in small teams with organizations on and off campus to study and analyze their business processes and help them to improve their methods.
"The goal of the project is to give the students an opportunity to work with real-world organizations and compare what they learned in class with what happens outside of class," said Gantman, who said 30 to 40 students enroll in her class each semester.
She continued, "Finding a client organization on their own, interviewing people about their jobs, dealing with logistics contingencies, and handling interdependencies within the team are all invaluable experiences gained from the project that help students get a better grasp of the profession and prepare them to the job market."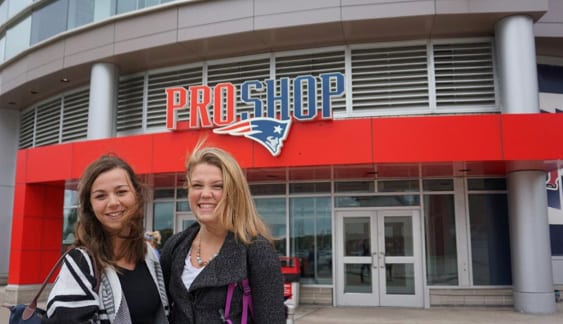 During the Fall 2016 semester, each student group studied the buying and other processes within one of four businesses: Peter Pan Bus Lines, the New England Patriots' ProShop, PC's Phillips Memorial Library, and the College's Raymond Dining Hall. In studying the processes, the students aimed to identify problems with their client's current methods and help them to become more efficient in their buying.
Therese Nessralla '18 (Raynham, Mass.) explained that while working on the Raymond Dining Hall project, her group learned how the cafeteria operates its purchasing and inventory management by interviewing the unit controller, John LaBreche of Sodexo, the College's food services provider.
In order to create a flow chart of purchasing activity, her group asked detailed questions concerning the recording process, the cafeterias vendors, and any delays that might impede purchasing.
Nessralla explained how learning about business methods, such as purchasing, in the context of a real business was not what she expected in her class.
"It is surprising to see why a process is done a certain way, whether it is for cost-efficiency, timeliness, and/or accuracy," said Nessralla. "I also find it interesting to see how many risks we face in order to do business. The most challenging part is being extremely thorough and trying to detect risks that we normally do not think about."
While working with the New England Patriots' ProShop, Kathleen Cronin '18 (York, Maine) explained that her team worked with a different type of inventory process called "complimentary item process." Through this process, team members analyzed how the ProShop updated its inventory when items were given to visitors of the stadium as complimentary gifts.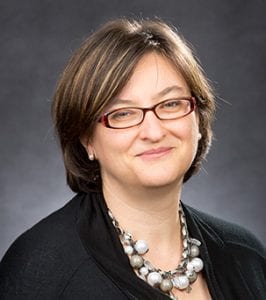 Cronin discussed how working with the ProShop built off her classroom lessons and put them into the context of the business world.
"Throughout the interview, my group and I could envision ourselves taking on the inventory process and creating a detailed flowchart that would represent it," said Cronin. "In the classroom we were able to see how the flowcharts and context diagrams worked, but by working with a business we were challenged to take what we knew and create our own narrative, context diagram, and flowchart."
Each year Gantman is excited to see how her students will interact with their real-world clients and has been generally pleased with the projects' outcome, she said. She has used this term-long project approach at PC for the last five years.
Gantman believes that the real-life challenges and constraints involved in the project provide rare learning opportunities that are lacking in a classroom setting. She believes it prepares students for the uncertainty in the business world.
Students agree that the project adds great value to the class.
"This project allows us to think critically of a real-world business process that takes place where we eat on campus," said Nessralla of her team's project. "It unravels what happens behind the scenes of a business, gives us a greater appreciation and understanding of the technology used in the accounting field, and improves our skills in detecting risks."