Biochemistry major bound for Poland through prestigious Fulbright Program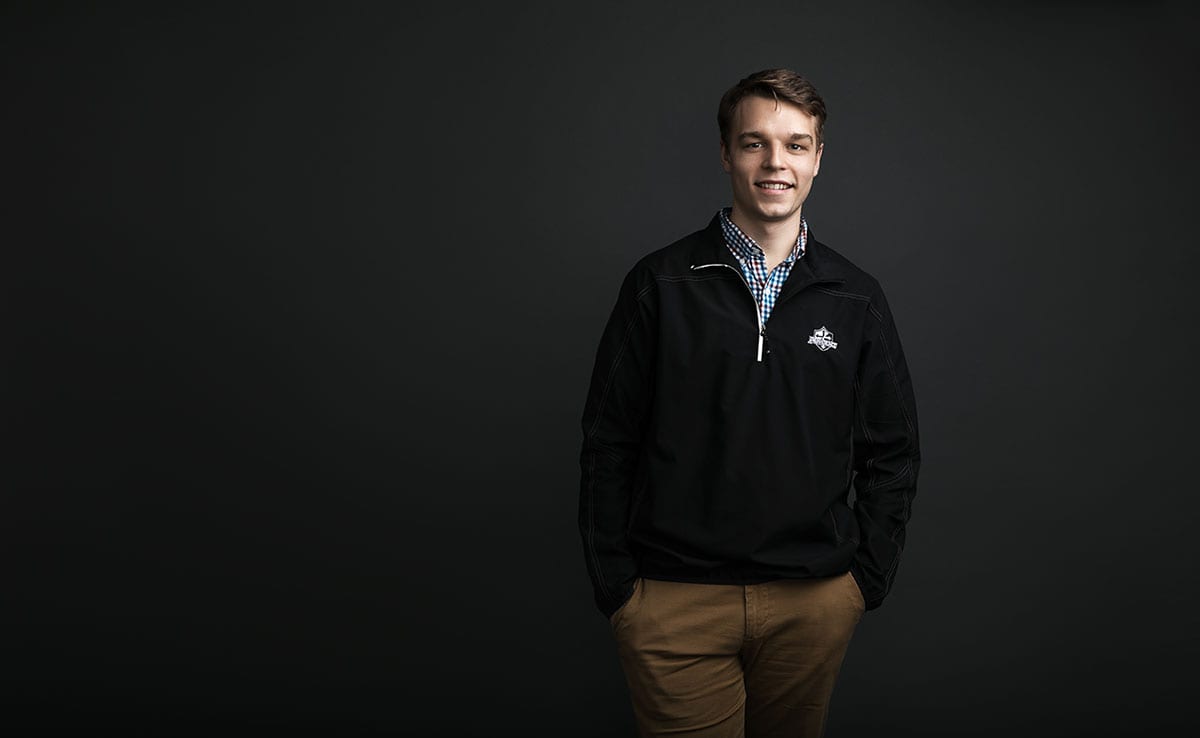 Michael Gilmor '17
BY VICKI-ANN DOWNING
Of the many paths open to a biochemistry major after graduation, Michael Gilmor '17 (Huntington, N.Y.) will pursue an unexpected one: He will travel to Poland to teach English to college students through the Fulbright English Teaching Assistant Program.
Gilmor is one of only 15 students in the United States selected by the Fulbright U.S. Student Program to teach in Poland. He chose the country because it welcomes teaching assistants with science backgrounds and because his great-grandparents were born there. Proficiency in the language is not required, but Gilmor plans to study it before leaving for Europe in late summer.
"I'm nervous, but I am so excited," said Gilmor. "Medical school was always an option for me, and I've also thought about grad school and law school. This definitely opens new doors."
Gilmor is the 10th Providence College student since 2011, and the first PC science major, to receive an award from the Fulbright Program, the flagship international exchange program of the U.S. government. Each year, the program sends 1,700 scholars to more than 155 countries to engage in study, research, or teaching.
Gilmor learned about the Fulbright Program through a friend, Vincent Whalen '15, who was awarded a teaching assistantship to Spain and now is a graduate student at Duke University.
"We were in touch the entire time he was over there," said Gilmor. "He helped me with my essay and guided me throughout the process. I couldn't have done it without him."
Gilmor is a teaching assistant in the laboratory of Dr. Kenneth R. Overly, associate professor of chemistry. A member of the Liberal Arts Honors Program, he entered PC as a chemistry major, inspired by a high school teacher with whom he still keeps in touch. But a class in biochemistry — the chemistry of living organisms — convinced him to change his major in his junior year, even though it meant additional course requirements.
"'Give me more of this' was his approach," said Overly. "It's refreshing when you get a student who's responsive and says, 'Tell me more.' He has that attitude day in and day out. He is really special: remarkably mature and engaged, and on top of that, he has really strong academic credentials. He's happy where he's at, and it shows.
"He loves what he's doing and that comes through in the quality of his work. He's enjoying life to the fullest. At the same time, his grades are really good. He's a delight to have in the classroom."
Gilmor follows where his interests lead him, said Overly, who has taught him in six courses, including a seminar in public speaking.
"When I throw out a question, he's willing to answer it and be wrong — he just wants to be engaged," said Overly. "When he has to stand up and talk for 30 minutes about chemistry, he just puts everything into it. He is excited and happy and having fun doing it."
PC students accepted to the Fulbright Program have taught in Bulgaria, the Czech Republic, the Dominican Republic, Nepal, and Turkey, in addition to Spain and Germany. Gilmor knew he wanted to be placed in Europe. Except for a childhood visit to France, he has never been there, and he did not study abroad during his four years at PC. When he researched countries on the Fulbright website, he realized Poland would be an excellent match.
During the summer of 2016, Gilmor lived on campus while commuting to an internship in the regulatory department at Pfizer, the pharmaceutical company, in Groton, Conn. In his spare time, he worked on his Fulbright application with Dr. Darra Mulderry, coordinator of post-graduate fellowships at PC. By the time of his Fulbright interview, he knew exactly what he hoped to experience in Poland.
"When I did my interview with the Fulbright people via Skype, they said, 'We can tell you've done research about Poland,'" said Gilmor.
Gilmor learned Poland had the first Habitat for Humanity chapter in Europe. Gilmor has experience helping to build homes with Habitat. He joined a Campus Ministry trip to Harrisburg, Pa., and he has worked on builds in New Orleans, in Alabama, and in coastal New York with his father, who advises the Habitat chapter at Huntington High School on Long Island.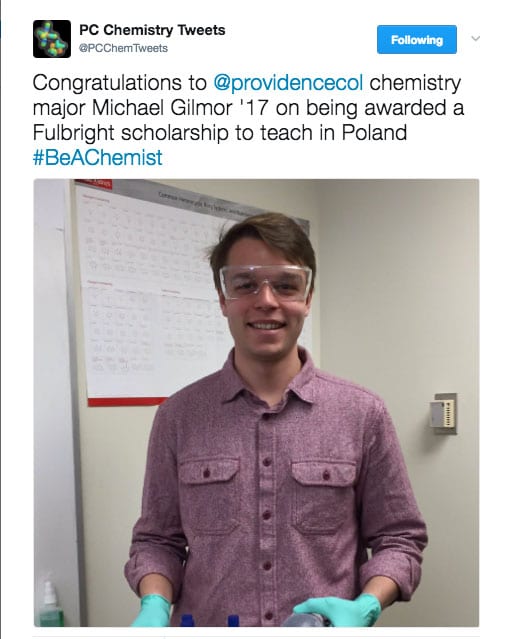 The chemistry department congratulated Gilmor on his Fulbright.
"It's something I love doing, so I hope to take part in Poland," Gilmor said.
He also hopes to work with Lean In STEM Poland, an organization that encourages women to consider careers in science, technology, engineering, and mathematics. Lean In Circles, which take place in the United States and around the world, were inspired by Sheryl Sandberg's book, Lean In: Women, Work, and the Will to Lead (Knopf, 2013), and Poland has one of them.
Dr. John B. Margenot, III, professor of Spanish and PC's Fulbright adviser, said students begin the Fulbright process in the spring to meet a mid-October deadline for submission of all materials, which include a personal statement and a statement of purpose. A Campus Evaluation Committee, made up of faculty from multiple disciplines, interviews the students in October and writes an evaluation for submission to the national screening committee. The host country then reviews the application and makes a final decision.
"It takes a special kind of student to navigate the process and secure an award — articulate, highly motivated, personable, and open-minded," Margenot said.
Gimor will learn about his university assignment in coming weeks and expects to leave for Poland in late August. He will be there during the academic year, from mid-September to June.
During college vacations, Gilmor has shadowed a physician's assistant and a lawyer, because he is considering careers in both fields.
"I use as many resources as I have," Gilmor said.
Most of his time outside the classroom has been devoted to the Board of Programmers, the organization that plans most activities for PC students. He was selected for membership after two rounds of interviews his freshman year. As a member of the Weekend Programming Committee, which schedules events on campus for Friday and Saturday nights, he planned a Volleyball-a-Thon, which drew 80-100 participants on a dozen teams. As a member of the Social Committee, he planned the first Halloween Spooktacular, with movies and a haunted maze.
This year, he is executive treasurer. He also was invited to be the student speaker at Family Day, the event at which accepted students visit PC in the spring.
Gilmor resides in DiTraglia Hall with roommates that he met as a first-year student living in Aquinas Hall. They are from Massachusetts, upstate New York, New Jersey, and Colorado, and they are studying biology, sociology, finance, and accountancy.
"The absolute best part of PC is the people that I've been able to meet," said Gilmor. "It's really a cliché, but it's true, this has been a home to me. During my first semester, coming from a very small high school, I had a difficult time adjusting. Now, having roommates, belonging to BOP, having people I can turn to, it's the best part. The academics have been amazing. But to have these relationships — it's true what they say on the tours. It's a community feel on campus."