Three Providence College students share top rank in Class of 2017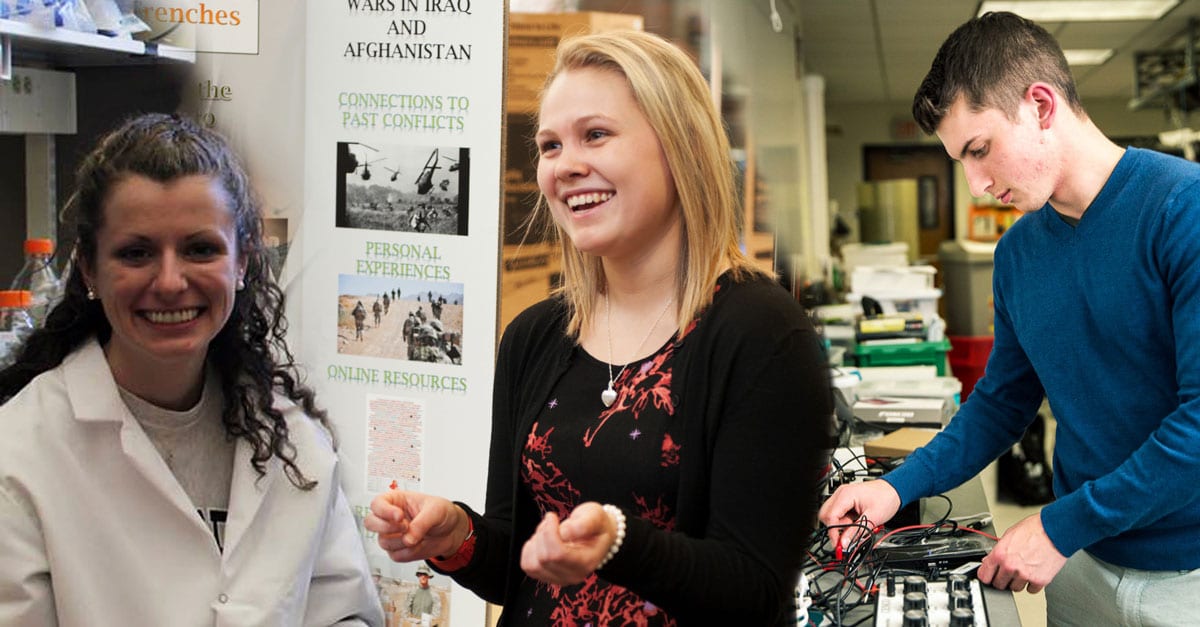 By Vicki-Ann Downing
Three students — Lauren Berolini '17 (Bridgewater, Mass.), Jack Ricci '17 (Providence, R.I.), and Victoria Timmel '17 (Smithtown, N.Y.) — are tied for the highest academic rank in the Class of 2017. They are members of the Liberal Arts Honors Program who earned near-perfect GPAs of 3.98 out of a possible 4.0 — the equivalent of all A's and one A-minus.
They will be recognized for their achievement during the Academic Awards Ceremony on Saturday, May 20, at 11 a.m. in the Peterson Recreation Center. Timmel will present the class oration on behalf of all three.
Lauren Berolini '17, history and secondary education
Lauren Berolini '17 (Bridgewater, Mass.), who has always wanted to be a teacher, grew up just a few miles from Bridgewater State University, one of the oldest teaching colleges in the country. She chose to study education at Providence College because she wanted to live away from home "for the full college experience" — and she found it.
Berolini majored in history and secondary education with a minor in English. She completed her student-teaching at Seekonk High School in Massachusetts. She taught two Honors U.S. History classes, and she taught World History to a special-education class while also taking courses at PC three nights a week. She worked in classrooms at Cumberland High School during her junior year and North Providence High School during her sophomore year.
She completed all required state certification testing in a single month last summer — two Praxis exams for Rhode Island and three MTELs for Massachusetts.
"I always wanted to teach," Berolini said. "I used to play school with my little sisters."
After graduation, Berolini will study for a master's degree in literacy at PC, which will qualify her to work as a reading specialist in grades K-12. While she studies for her degree, she will work as a graduate assistant in the Writing Center of the Office of Academic Services, where she served as a tutor for three years and was named "Writing Tutor of the Year" her senior year.
Berolini hopes to work as a high school history teacher. At the Academic Awards Ceremony on May 20, she will receive the Rev. Daniel F. Reilly, O.P. Award for excellence in historical scholarship for her thesis, "When Mom and Grandma Go Back to School: The Founding of Wellesley College's Continuing Education Program and Its Transformation Over the First Decade."
She looked at challenges the women faced balancing their academic and domestic responsibilities as they returned to school in the 1970s. She was inspired by the story of her grandmother, Elizabeth Berolini, who returned to college during that time.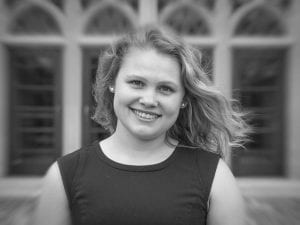 Berolini's favorite course at PC was her Liberal Arts Honors Program colloquium, Storytelling in the Public Square, with Dr. Robert B. Hackey, professor of health policy and management. Students studied storytelling as a means of communicating about veterans and health-care issues. Berolini helped organize a panel discussion, "How Do We Remember," with veterans for Veterans Day. She also wrote a paper, "How Do We Best Teach War," focusing on World War II — a subject she later taught while student-teaching.
As a junior, Berolini received the Paul van K. Thomson Award at the Liberal Arts Honors Convocation as the top student to complete the four-semester honors Development of Western Civilization Program.
For all of her academic success, Berolini was as busy socially. She was an admission ambassador from sophomore year on, leading group information sessions for prospective students and their families and allowing students to shadow her during the school day. She also was a certified Bodypump instructor in the Concannon Fitness Center.
Berolini was president of the PC Chapter of Colleges Against Cancer, which stages Relay for Life, the largest fundraiser on campus. This year, it raised $65,000 for the American Cancer Society. The event runs all night and into the morning in the Peterson Recreation Center with Zumba classes and a cappella and dance performances. Berolini also is chair of the Luminaria Committee, which lines the walking track with personalized bags and glow sticks in memory of those who have died of cancer — including her grandmother, who died just before she came to college.
What did she like best about PC?
"It's the sense of community on campus," said Berolini. "It's small enough so that you come to recognize most people. People hold doors for each other. Professors want to know who you are. You're always part of something bigger at this school."
Jack Ricci '17, pre-engineering
Jack Ricci '17 (Providence, R.I.) spent his senior year at Columbia University through PC's 3+2 Engineering Program. He will graduate with a bachelor's degree in pre-engineering, then return to Columbia for a fifth year to complete a second bachelor's degree in computer engineering, with plans to become a software engineer.
"Two degrees are better than one," said Ricci. "It's nice to have a purely technical degree from Columbia and a more individualized degree in math, physics, chemistry, and humanities from PC. It speaks to the broadness of my education at Providence."
Ricci grew up attending PC basketball games and visiting campus because his mother, Rebecca Ricci '90, is an alum and coached the women's tennis team. During his first two years at the College, he commuted from the family's home in Wrentham, Mass. They moved to Providence in time for his junior year. The tennis connection was a bonus.
"I was able to serve as a practice player for the tennis team," said Ricci. "A Division I schedule is pretty demanding, but I didn't have that stress. I played, practiced, helped the team, even wrote match recaps for friars.com. It was an honor to be able to play with the great players we have on the women's tennis team."
PC's foundation in the humanities attracted Ricci. For a time in high school, he thought he would major in political science and attend law school. He entered PC as a physics major, then switched to engineering during his first year.
"It's the classic example of going into something thinking you have your life figured out, when you never really know," said Ricci.
Engineering majors at PC have the option to complete their studies at Columbia University or Washington University in St. Louis. For some, deciding to spend senior year away from Providence is difficult, but Ricci said he was ready.
"I liked the idea of getting two different college experiences," Ricci said. "I was happy with my academic experience at Providence, but ready to move on and try a different kind of challenge, something more tailored toward engineering. I feel I got the best of both worlds.
"I think that's the value of the combined plan program: to be able to really immerse yourself in a variety of topics and to synthesize different areas of thought," Ricci said. "Having a technical background is great and it challenges you, but without the classes you get at PC, you can't be a holistic problem-solver. It seems the industry is starting to value that, too."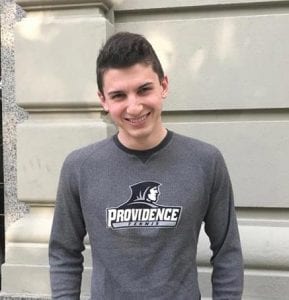 If he had stayed at PC, Ricci said he would have added a major in history. Classes in the College's Development of Western Civilization Program, which incorporate history, English, theology, and philosophy, and are required for all students for two years, were among his favorites.
"In engineering courses, you live in the textbook, and rely less on lectures," said Ricci. "Really, I loved sitting in (DWC) classes to just listen. For me, story-telling is something humans are naturally drawn to. I can always see a story in history classes."
Ricci also served as a physics department tutor at PC during his junior year.
"Dealing with content on your own and learning material, you don't have the same interpersonal experience as when you're trying to teach someone else," Ricci said. "Tutoring was something I ended up cherishing."
For three semesters, Ricci worked in the research lab of physics professor Dr. Stephen J. Mecca '64 & '66G, where students solve problems in sanitation, technology, and health affecting people in Ghana. He worked to develop alternative power sources for "Lab in a Box," a computer tablet loaded with educational materials and hosted on a tiny server.
"It was the first technical project I had ever taken on and it was invaluable to me," said Ricci. "It touched a lot of different phases and components of engineering — programming, electrical engineering, a little bit of software, and managerial-type business decisions."
During his junior year, Ricci worked to build a health portal to assist medical personnel working in Ghana. He collaborated with PC students who were majoring in sociology and health policy and management.
"Dr. Mecca is fantastic," said Ricci. "He makes so many opportunities available to his students. He is a brilliant, brilliant man. You learn so much. He instilled my core philosophy toward problem-solving. It was extremely beneficial for me to have that relationship with a professor."
With his final exams complete, Ricci will return to Providence for Senior Week, to "partake in everything, one final time."
"It goes without saying that I'm looking forward to seeing friends I haven't seen in a year," Ricci said. "And to seeing professors. My family always joked that I was better friends with my professors than a lot of the students, and there's probably an element of truth to that. Providence College is a great way to develop relationships."
Victoria Timmel '17, biology and psychology
It's hard to decide what's most impressive about Victoria Timmel '17 (Smithtown, N.Y.): her academic success while majoring in both biology and psychology and minoring in neuroscience, or that she won five championship T-shirts in intramural badminton along the way.
Time management is key, said Timmel.
"I feel that everyone here is good at finding a balance between work and doing the things you enjoy," Timmel said.
At PC, intramural sports are intense. More than half the student population takes part in one or more of the 23 sports offered through the Department of Recreational Sports. The goal is to win a championship T-shirt. Timmel won five playing badminton, a sport she also played in high school on Long Island — "a sneaky advantage," she said. She played water polo, volleyball, kickball, and spikeball, too.
"I love that everyone here plays, whether they're athletic or not," Timmel said.
Timmel has been a member of Friars Club, the College's premier service organization, since her sophomore year. Its 75 members are selected through interviews. They lead campus tours, volunteer at events such as commencement and Alumni & Family Weekend, serve as honor guards at funerals, and perform service around Providence.
"Friars Club is the best — the community of people I've been exposed to," said Timmel.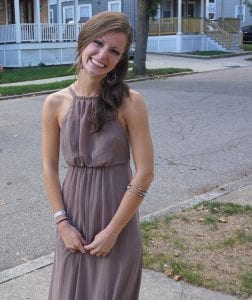 During the Spring 2016 semester, Timmel studied abroad with the Medical Practice and Policy Program at DIS Copenhagen. The students traveled to medical clinics and hospitals throughout Denmark and made trips to Berlin and to Poland to study health care.
To study abroad as a science major "required a lot of early planning, but it was something I felt I definitely wanted," said Timmel.
"It's cool that no one has to worry about health care" in Denmark, Timmel said. "Everyone is on an equal playing field."
Timmel learned about PC from a family friend, John Ruhl '15, now known as Brother Stephen Mary and studying for the priesthood at the Dominican House of Studies in Washington, D.C.
When she visited for a tour, she loved "the size of the school, and how you could make a name for yourself here and not just be a number," she said.
Timmel entered PC as a biology major because she knew she wanted to work in health care, but fell in love with psychology after her first class. Neuroscience, which is offered as a certificate program at PC, is "where biology and psychology tied together for me," she said. With 14 other students, she completed her neuroscience capstone this semester, taught by Dr. Thomas J. Guilmette '78, professor of psychology.
Timmel plans to return home for a year after commencement while applying to medical schools. She took the MCAT in September and hopes to work in pediatric medicine. She spent the summer after her sophomore year volunteering at a pediatric psychiatric clinic at Stony Brook University School of Medicine.
During her senior year, Timmel worked in the research lab of Rev. Nicanor Austriaco, O.P., professor of biology and theology. While most students in Father Nic's lab study cancer cells, Timmel studied a protein that is overrepresented in Parkinson's disease.
"Father Nic is one of those people I heard about long before I met him," said Timmel. "I entered the lab to be exposed to him as much as to be exposed to the research, because I know he really works hard to help students along the road."
The College's required Development of Western Civilization Program, which all students are required to take for two years, was a benefit, too, Timmel said: "Without Civ, I would not be as confident in my writing ability."
"I've never talked to a person who's gone here and didn't like it in one way or another," said Timmel. "I'm getting really sad right now, thinking about leaving."