For PC's first Luce Scholars, summer is all about science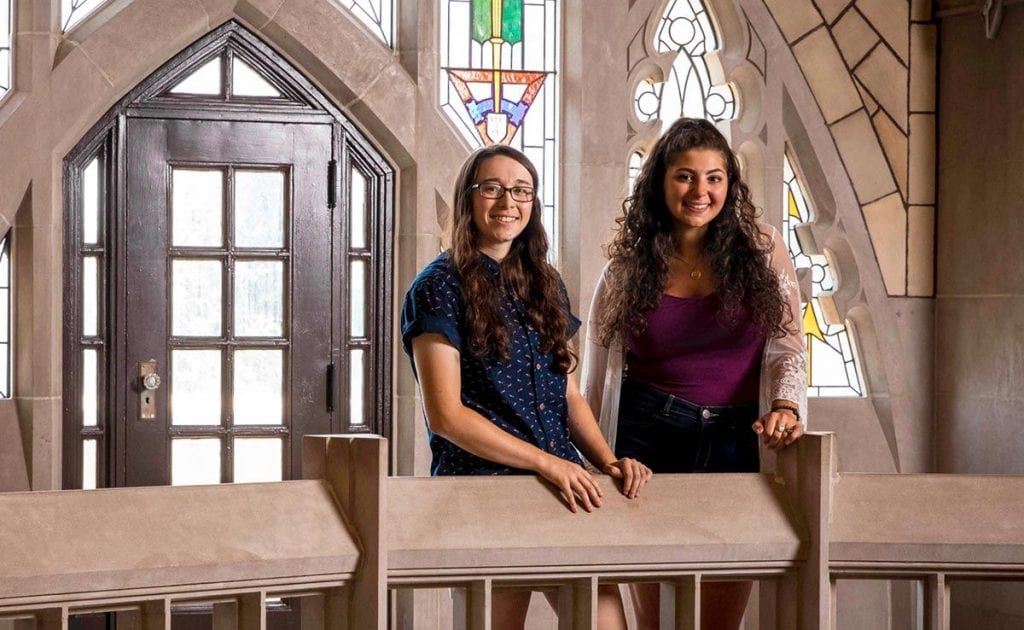 By Vicki-Ann Downing
A summer of paid research, a full-tuition scholarship for senior year, and the chance to develop a program to encourage young women in the sciences — those are the opportunities enjoyed by Emma Burgess '18 and Bianca Saliba '18, the first Clare Boothe Luce Scholars at Providence College.
The Luce program is made possible by a $288,538, four-year award PC received from the Henry Luce Foundation to encourage women in the study of science, engineering, and mathematics. Burgess and Saliba were selected based on their academic standing, commitment to the sciences, and interest in pursuing an advanced degree or career in their fields of study.
They each received a $4,000 stipend to spend the summer on campus in research with faculty. Burgess, from Huntsville, Ala., an applied physics major and mathematics minor, works in the lab of Dr. Seth T. Ashman, assistant professor of physics, on computational and experimental projects. Saliba, from Johnston, R.I., is a chemistry major working with beta-Carbolines in the lab of Dr. Seann P. Mulcahy, associate professor of chemistry.
Burgess and Saliba, who are students in the Liberal Arts Honors Program, are among about 70 science students doing research on campus this summer. As part of the Luce grant, they will continue the research for academic credit during the 2017-18 school year and will undertake a service project to encourage young women to study science.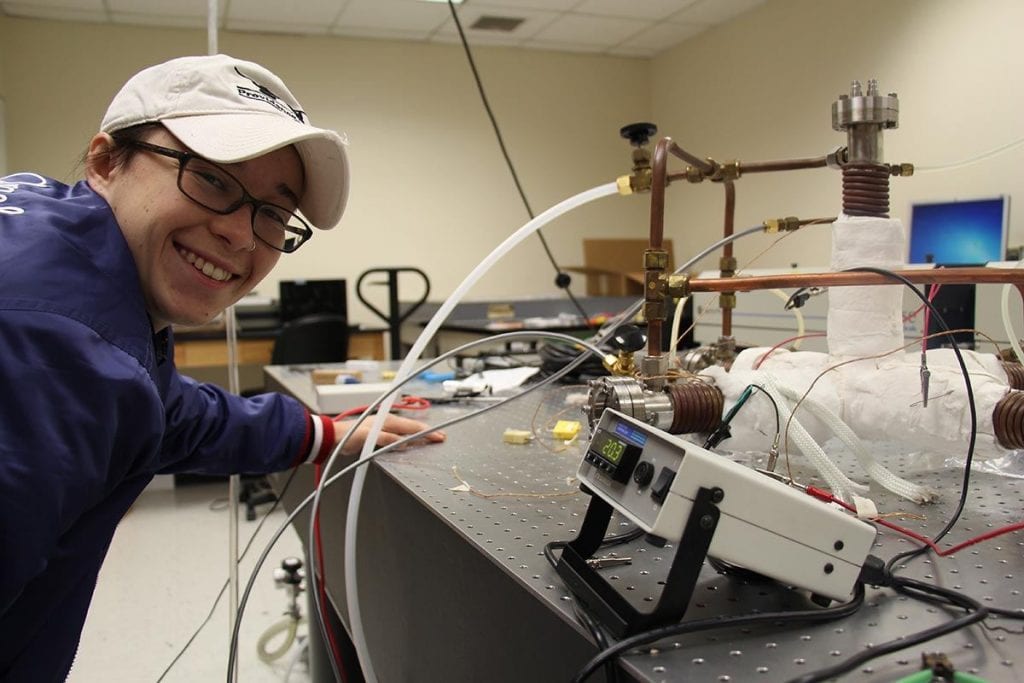 Computer science, mathematics, and hands-on learning, too
Editor's Update: Emma Burgess '18 will attend law school in the fall. She hopes to become a patent attorney. 
Burgess came to PC from Alabama after being recruited to play tennis. She was a member of the team for two years. Originally drawn to computer science as a major, she quickly became interested in engineering and physics, too. She jokes that she chose to major in applied physics because of the time she spent watching astrophysicist Neil deGrasse Tyson in Cosmos: A Spacetime Odyssey on Netflix.
She has worked in Ashman's lab since her sophomore year, including during the summer of 2016, when she received a stipend from the Rhode Island Space Grant Program to fund her research. It combines all her interests: computer science, mathematics, and hands-on learning, too.
"At first, I liked the idea of merging physics with computer science," Burgess said. "This is new, working hands-on, and I realize I do like that, too."
In the lab, she divides her time between an experimental project and a computational one. Both study the properties of a simple molecule made up of two sodium atoms.
Burgess repairs and tests a heat pipe oven, a specialized vacuum chamber that is heated in the center and cooled at the outer edges, so that molecular vapor is confined to the center. The molecules are then studied based on their interaction with light, generated at a range of wavelengths by a laser. By measuring the wavelengths, scientists learn about the configuration of electrons and the vibration and rotation of the molecules.
Burgess also uses computer programs and analyzes large data sets to determine properties of the molecule made of two sodium atoms. When the molecules interact with light, they absorb energy and become excited. Within a fraction of a second, they return to their lower energy state. Burgess is determining the lifetimes of several molecular states to determine the time they exist in an excited state.
"Burgess' work is contributing to the fundamental knowledge base of scientists," said Ashman. "In fields such as astronomy, physics, and chemistry, it is important to know the likelihood of exciting an atom or molecule using light, and how long that atom or molecule will remain excited."
Burgess wants to further her studies in graduate school. As part of the Luce program's goal to encourage young women to become involved in the sciences, she will undertake a project in the fall with the Providence After School Alliance.
Her science classes at PC are largely made up of women, but Burgess understands that nationally, "more women go into the softer sciences, like biology and psychology, or become nurses, rather than doctors."
"Science needs different perspectives and creativity, and women have that just as much as men," Burgess said.
During the school year, Burgess works for Academic Media Services, which provides technology support to the College community, and she is a member of SHEPARD, the campus support group for the gay and lesbian community.
"Emma is a quick study, works well independently and with other students, and is motivated and hard working," said Ashman. "She has been a valuable asset in the research lab. I look forward to the coming year of progressive research working with her."
Combining a love of art with chemistry
Editor's Update: Bianca Saliba '18 plans to work in the cosmetics industry as a formulation chemist to gain experience in the field. At the Academic Awards Ceremony, she received the American Chemical Society Award, presented to the student who has shown exceptional promise in the field of biochemistry or chemistry. She also achieved the highest academic rank in chemistry.
In addition to being a scientist, Saliba is an artist. She has studied both sketching and ceramics at PC. For many years, she dreamed of becoming a plastic surgeon. Now, through her study of chemistry, she's developed a new interest. She wants to work in the cosmetics industry, perhaps developing her own makeup line.
"Science is a field that engages so many of your senses, especially sight and smell," said Saliba. "Working with my hands is really fun, and my research is very hands-on. We use beakers, flasks, solvents, extraction — everything you would expect in a lab."
Saliba works with molecules known as beta-Carbolines, flat, multi-ring compounds that bind to both DNA and protein receptors in the brain. Using equipment and instruments, she tries to find more efficient ways to make the molecules, with fewer procedural steps and less solvent waste. Once the product is produced, she purifies it and uses analytical techniques to characterize the compounds.
Saliba has previous research experience. During the summer of 2016, she worked with Dr. David Williams, assistant professor of chemistry, and during her junior year, she worked in the lab of Dr. Kenneth R. Overly, associate professor of chemistry. As the only rising senior among the six students in Mulcahy's lab this summer, she is a resource for younger students, especially those who have not yet studied organic chemistry.
"The experience in the lab is invaluable," said Saliba. "Any good chemist needs to be able to use the equipment in the lab."
For her service project to encourage young women to study science, Saliba plans to return to St. Mary Academy – Bay View in East Providence, R.I., the all-girls school that she attended from first grade through high school. Joined by Mulcahy, she will lead juniors in a chemistry experiment in the lab where she once studied.
"Bianca is a hard-working and conscientious student whose aptitude in the classroom has translated into excellent problem-solving skills in the research laboratory," said Mulcahy.
"In just a few weeks, Bianca has made great progress on her synthetic methodology project, despite numerous unexpected obstacles along the way. Her ability to troubleshoot these problems and to 'think like a chemist' has enabled her to adjust her experiments to achieve the desired result. In addition, her close attention to detail and excellent organization skills make her experiments reproducible, a key hallmark of good science.
"Given our department's emphasis on the training of undergraduate scientists, it is no surprise that she is developing independence in the laboratory that is attractive in the job market."
Saliba, who is half Lebanese, is president of the Middle Eastern Students Association at PC and a member of the Board of Multicultural Student Affairs.
She is grateful for the support of her parents, Saliba Saliba and Robin Saliba, and says the best thing about PC is the friends she has made. They are a diverse group, studying public and community service studies, biology, health policy and management, and marketing. She met many of them during her first year, either as part of her orientation group or because they lived on her floor in Raymond Hall.