Three academic tutors turn their scholar focus to medicine and law
By Vicki-Ann Downing
Three students in the Class of 2018 finished their four years at Providence College with near-perfect grade-point averages of 3.99 on a scale of 4.0 — the equivalent of all A's and one A minus.
The students have something else in common, too — all worked as tutors in the Office of Academic Services.
Sarah Kelley '18 (Swampscott, Mass.), a double major in health policy and management and Spanish; Mira Magner '18 (Shrewsbury, Mass.), a biology major and mathematics minor; and Junho Song '18 (Babylon, N.Y.), a biology major, all members of the Liberal Arts Honors Program, will graduate summa cum laude.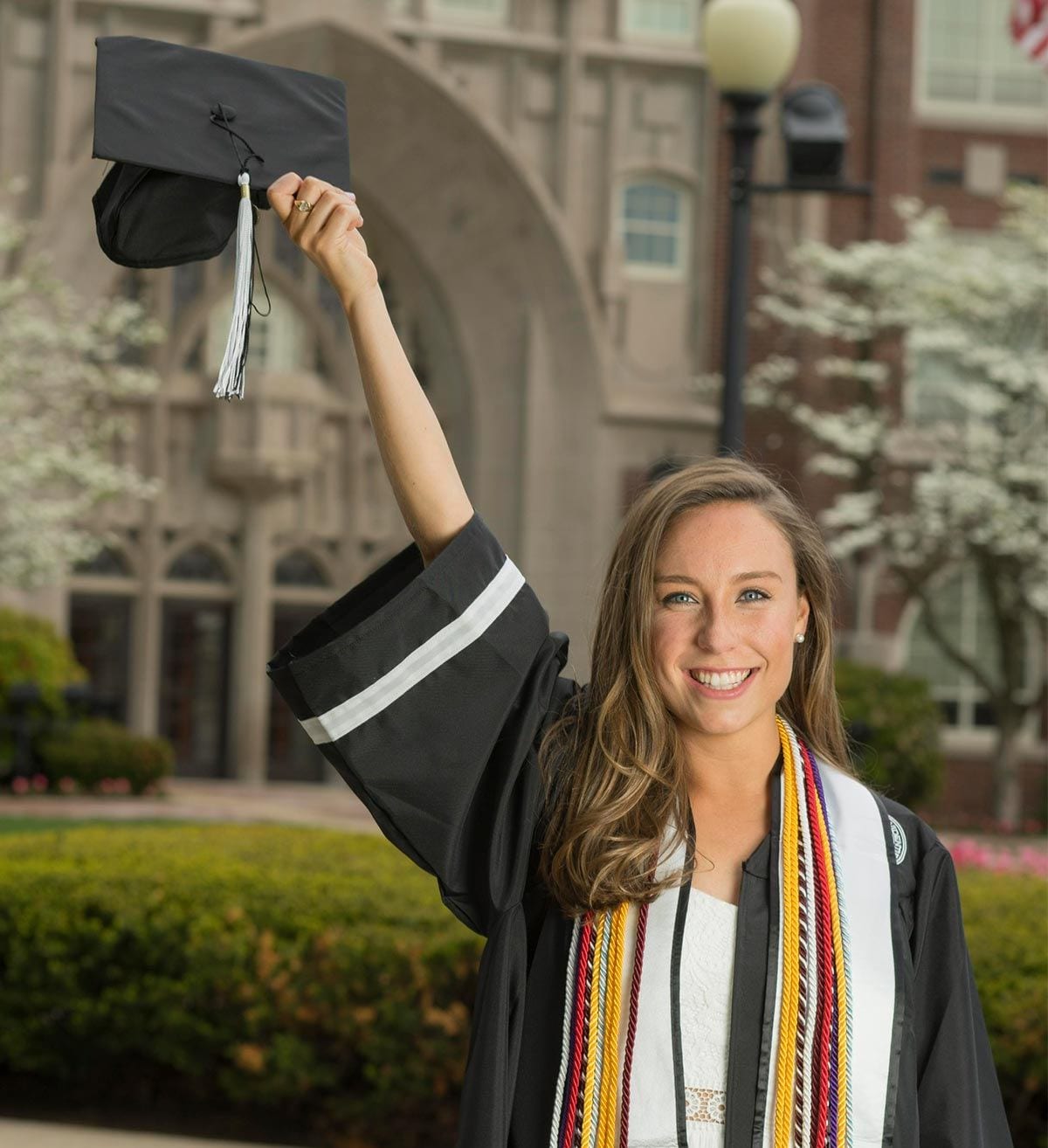 After graduation, Kelley will work as a legal assistant with Bergstresser & Pollock, PC in Boston before applying to law school. She would like to study law in a dual program that would allow her to earn a master's degree in public policy or public health.
"Looking at how volatile the health care field is, all the changes that are happening, and how it's affecting so many people, I knew that health policy and management was a great field of study for me," Kelley said. "The tie between health law and the major is a natural one."
Kelley was opinion editor of The Cowl, the student newspaper, and worked as a tutor in the Writing Center of the Office Academic Services. She also studied for a semester in Seville, Spain, through the honors program. All her courses were in Spanish, and she lived with a host family.
Running was her outlet from academic work. Kelley qualified to run the Boston Marathon in April 2017 and finished with a time of 3:43. She competes each year in Rhode Race Rhode Island, completed a half marathon this spring, and will train to run another marathon in the fall.
"It's pretty much my outlet from school and work and extracurriculars," Kelley said.
Kelley attained the top academic rank in both her majors. She was inducted into Phi Sigma Iota, the international foreign language honor society, and Sigma Delta Pi, the national collegiate Hispanic honor society.
Dr. Robert B. Hackey, professor of health policy and management, called Kelley "a remarkable student with a bright future."
"Sarah brings a keen intellect and a thoughtful approach to her studies," Hackey said. "I had the pleasure of teaching Sarah in three different upper-level classes in our program, and in each course, she emerged as a 'go-to' person in class discussions. She not only knows the details but has a gift of placing them into perspective.
"She has a bright future in law school, for she's committed to tackling complex issues from more than one point of view. Sarah's willingness to not only learn the material, but to also challenge the authors we read, truly embodies the College's longstanding pedagogy of disputed questions."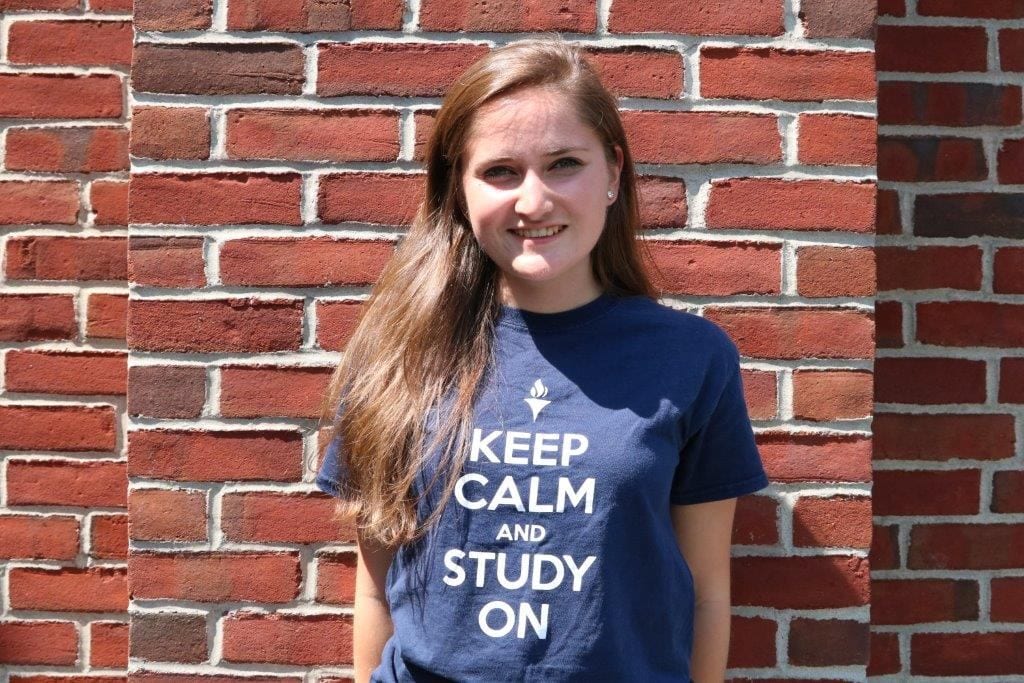 Magner, who is interested in becoming an oncologist, will attend Boston University School of Medicine in the fall. She tutored students in biology and chemistry in the Tutoring Center of the Office of Academic Services and also worked in the research lab of Dr. Marla B. Tipping, associate professor of biology.
"Mira joined my research team as a freshman," said Tipping. "I quickly noticed her attention to detail when conducting complex experiments, and her genuine curiosity for science. She has a brilliant mind for learning new skills and applying them methodically. She shows up late in the evening and on weekends to move her project along. Her understanding of the science behind the techniques was evident when I observed her teaching fellow lab mates how to perform them. She became a leader in the lab who others looked to for help with data and interpretation and experimental execution."
Magner was a member of the Board of Multicultural Student Affairs and chair of its Diversity Committee, and she served as treasurer of the Art Club, an organization with members from a variety of academic disciplines.
"Attending Providence College has been one of the best decisions I have made," Magner said. "In my four years at PC, I've been involved in opportunities that have allowed me to meet many amazing people and helped me to grow and succeed. The community is incredible. I've made lifelong connections with my faculty and my classmates that I know would not have been possible anywhere else, and I truly feel like I will always be a part of the Friar Family."
Magner is a member of Alpha Epsilon Delta, the national health pre-professional honor society, and Sigma Xi, the scientific research honor society. At the Academic Awards Ceremony, she will receive the Richard G. Mignacca, M.D. '60 Award, presented to an outstanding senior who will attend medical school.
Magner and Song both will receive the Stephen J. Ryan, M.D. '30 Distinguished Student Award, presented to a senior who will study medicine and who possesses "the characteristics of integrity, compassion, and personality that would make the ideal physician."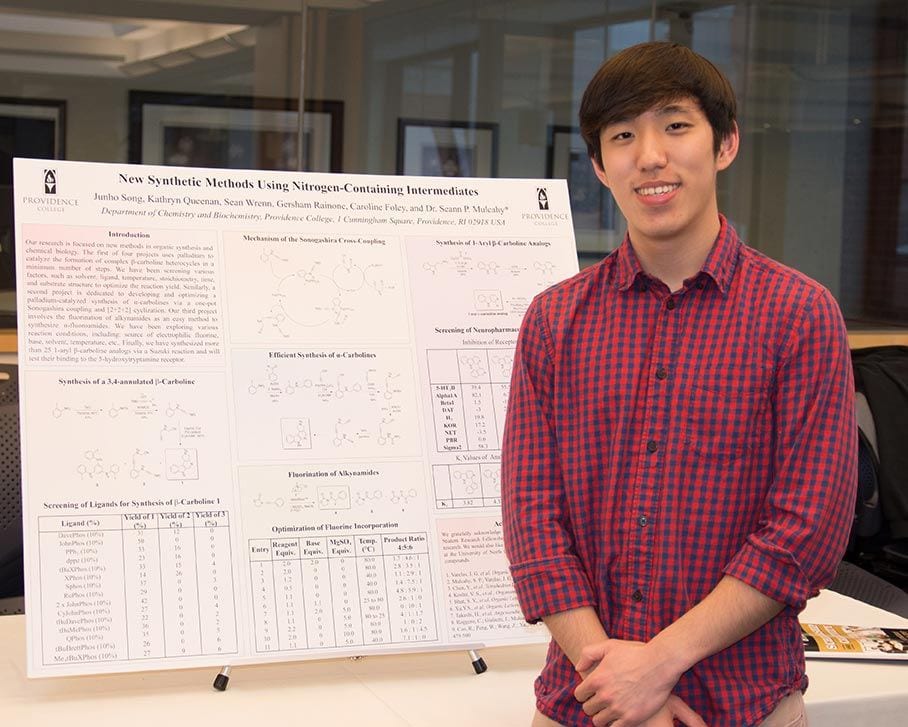 Song, who is interested in orthopedic surgery and anesthesiology, will attend the Donald & Barbara Zucker School of Medicine at Hofstra/Northwell in Hempstead, N.Y. He was a biology and chemistry tutor in the Tutoring Center of the Office of Academic Services and worked in the research lab of Dr. Seann P. Mulcahy, associate professor of chemistry.
"Junho has been a model student in the classroom and laboratory, earning high grades in challenging courses and contributing to a research project that will soon be submitted for publication," Mulcahy said. "He has also used his knowledge to help other students reach their own goals. He has been one of the 'go-to' tutors in OAS for several years running. The respect he has earned from his classmates bodes well for communicating with future patients as he embarks on a medical degree from Hofstra University."
During the summer of 2017, Song was awarded a Veritas Distinguished Internship and received a stipend to take part in the Harvard Orthopedic Trauma Summer Undergraduate Research Program.
He was founder and president of PC's chapter of the American Medical Student Association. He is a member and president of Alpha Epsilon Delta, the national health pre-professional honor society, and Sigma Xi, the scientific research honor society.
"I chose PC for its extraordinary community cohesiveness," said Song. "That's what really drew me in and made PC stand out to me, aside from the academic possibilities. I feel like I really made family members and lifelong friends here. The professors aren't just professors but mentors who I will stay in touch with for the rest of my life. I didn't just learn science from them. I learned life skills, management skills, and professional skills."