Science Complex addition is formally opened with lecture by Kelly Page '93
By Vicki-Ann Downing
"One of the most exciting days for the sciences at Providence College" was celebrated on Friday, Sept. 28, with the formal opening and dedication of the new 37,000-square-foot, four-level addition to the PC Science Complex. The new space includes teaching laboratories, classrooms, a lecture hall, a computer lab, student commons, and an administrative office suite.
The addition is the first step in a long-term project that will modernize the science facilities in Albertus Magnus, Hickey, and Sowa halls, said Dr. Paul T. Czech, professor of chemistry and department chair of chemistry and biochemistry. Renovations are underway in Sowa Hall and will continue until the entire complex is finished.
Czech spoke to an overflow crowd of students, faculty, staff, and alumni at the opening ceremony, which, due to weather, was held in the Fiondella Great Room of the Ruane Center for the Humanities, rather than outdoors on the addition's new landscaped plaza.
"Everyone here has had their life tangibly improved by the work of a dedicated scientist," said Czech, citing as examples "the synthetic organic chemist who designed the molecule that put your loved one's cancer into remission, the botanist who developed the hybrid crop that is more resistant to a devastating disease, the physicist-engineer who designed the hygienic toilet that is used around the world, the experimental psychologist who reveals better ways to teach children with learning differences to read."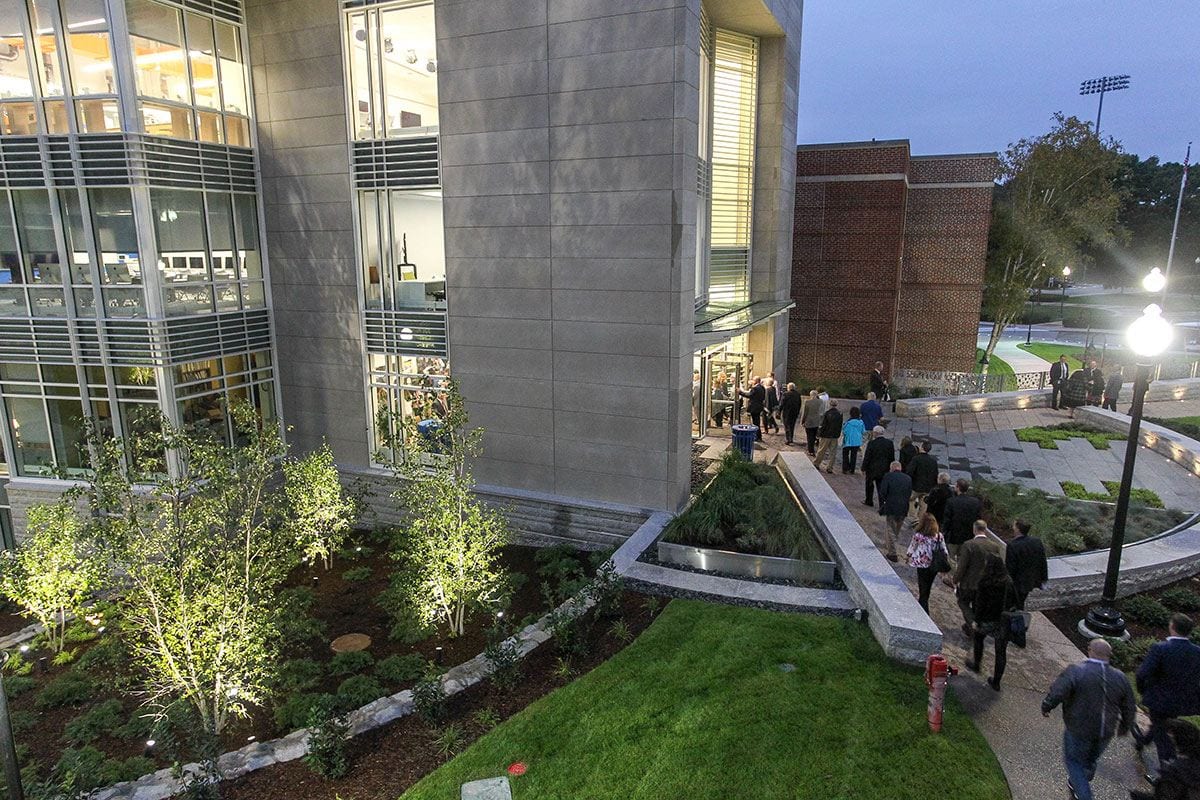 Science is integral to a liberal arts education, Czech said. The National Science Foundation reported that half of those who earned advanced degrees in the sciences came from liberal arts colleges, even though fewer than 30 percent of American students attend liberal arts schools.
"Effective scientists are engaged in deep thinking about the natural world in a way similar to the historian exploring an ancient text or the gifted writer using language to craft a great novel," said Czech. "At PC, at our best, we challenge our students to think critically about scientific data, to solve problems, to make sound arguments in written and oral form. These are the aims of a liberal arts education, and contradicts those who believe that the sciences are strictly vocational."
College President Rev. Brian J. Shanley, O.P. '80, who blessed the new addition, said science is important to the liberal arts because "science is about how the world works."
"You can see the beautiful artistry of the creator in the sciences," Father Shanley said. "It is a part of our belief as Dominicans that science is as integral as philosophy, theology, and everything else that we urge our students to study. In a sense, all roads lead back to God."
Dr. Sheila Adamus Liotta, dean of the College of Arts & Sciences and an associate professor of chemistry, said the College is proud of the accomplishments of students in STEM disciplines. The addition brings "first-rate facilities to match our programmatic offerings and our faculty," she said, and will encourage student engagement and signature work.
Czech remembered Dr. Steven J. Mecca '64 & '66G, professor of physics, who helped plan the science addition but did not live to see its completion. Dr. Mecca died on Aug. 28. Czech also mentioned the contributions other late faculty members, including Dr. Clint D. Anderson, professor of psychology; Dr. Robert I. Krasner, professor of biology; and Dr. Mark N. Rerick, professor of chemistry. Father Shanley also remembered the late Rev. Charles V. Reichert, O.P., who directed the pre-med program.
The important work scientists do was demonstrated by Kelly Page '93, who presented the Anna E. Lavoie Memorial Lecture prior to the Science Complex opening.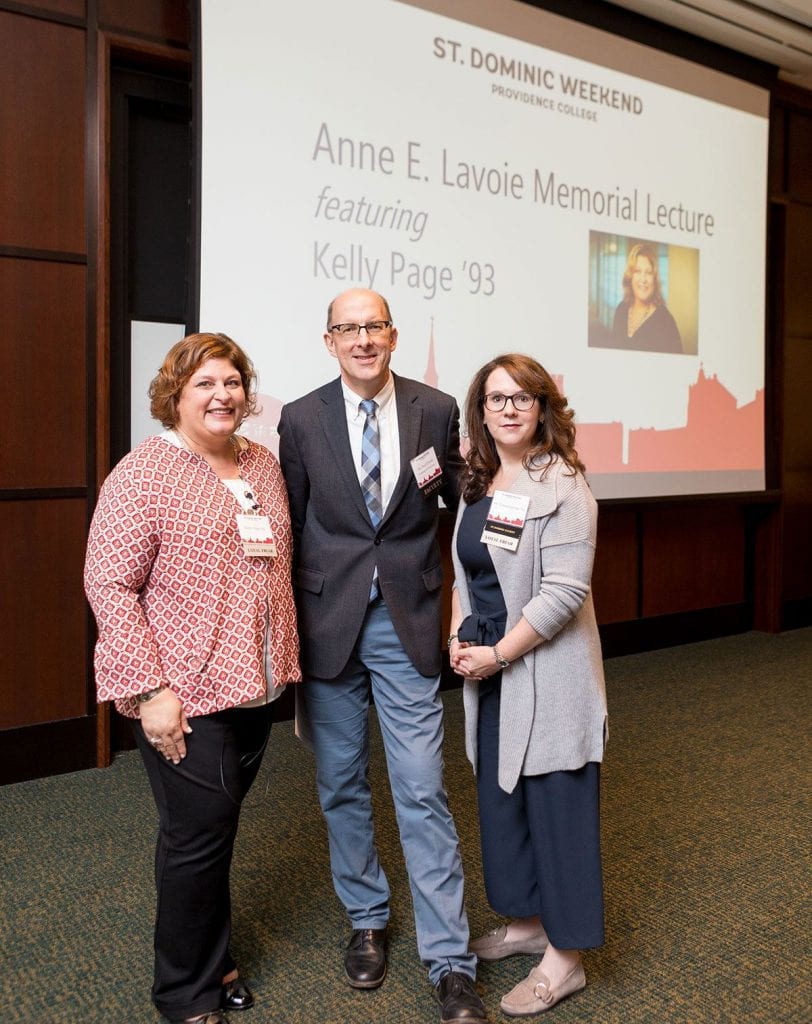 The annual lecture, which encourages students to consider an array of career paths in the sciences, was endowed by Dr. Teresa Lavoie '89, who graduated with a chemistry degree from PC, then earned a Ph.D. and a law degree, and now is a principal at Fish & Richardson. The inaugural speaker last year was Dr. W. Eddie Martucci '04, founder of Akili Interactive Labs.
Page double majored in chemistry and biology at PC and now is vice president and head of the Oncology Business Unit at Takeda Oncology in Berlin, Germany. She is in charge of a $60 billion business and more than 60 employees. In a single day, her responsibilities can range from overseeing a $5 billion acquisition to dealing with a single customer complaint.
Page titled her presentation "Beyond Blackboards and White Coats: An Uncommon Career in Science," because when she was a student, she thought she would attend medical school or study for a Ph.D. after graduation. Instead, she accepted a job as an analytical chemist at Pfizer, the pharmaceutical company. At first, she worked in research and development, then on the commercial end, helping to develop and market Zithromax, the antibiotic.
Life impacts decisions, Page said. In 1999, the year that she obtained an MBA from the University of Rhode Island, her father, her uncle, and her friend's father all were diagnosed with lymphoma. Finding a cure for cancer became her life's focus. (Her father, a 19-year-cancer survivor, attended the lecture.)
With her MBA, Page was asked to join the commercial team at Pfizer, which allowed her to learn about reimbursements, the pricing of drugs, and drug ethics. Pfizer was one of the first companies to work in immunotherapy, which uses the body's natural defenses to fight cancer.
"Each time I moved in my career, it opened my eyes to other opportunities," Page said.
"You don't always know what you're going to do," she told students. "Science is a foundation. You have so many skills you learn over time."
In 2008, Page moved from Pfizer to Millennium Pharmaceuticals in Cambridge, which then was acquired by Takeda. She was the head of project management, in charge of rebuilding a unit of employees. She was no longer an "individual contributor." As project manager, "your success is determined by everybody else," she said.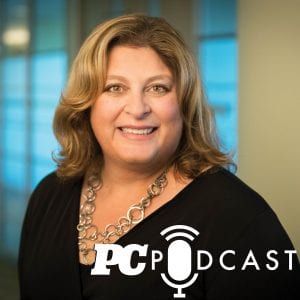 The following year, Takeda licensed Adcetris, an antibody blood coagulant used to treat lymphoma. She again worked on the commercial end, where drugs are made available to patients, and then became vice president of oncology strategy and planning. Her new assignment in Germany, which began in January, will allow her to attain profit-and-loss experience.
Page said she enjoys working for a pharmaceutical company because of the impact of her work. There are hundreds of cancers, most of them incurable. Adcetris has treated 45,000 patients in 71 countries, an amazing reach, she said. Among the lymphoma patients treated with the drug are Ethan Zohn, a former professional soccer player and winner of Survivor: Africa, whose foundation raises money to combat HIV-AIDS, and Carol Jarvis, a jazz trombonist who has performed with Sting and Seal. Both underwent stem-cell transplants and are in remission.
Science has been the foundation for all her work, and her liberal arts education taught her to think, Page said. As she moved through her career, it helped her to demonstrate judgment, make good decisions, and think ethically.
Above all, "find your passion," Page urged students.
"Careers are long," she said. "You really have to love what you do … Your PC education will help you in more ways than you could ever believe."