Presidential pilot: Lt. Col. Kevin G. Hunter '99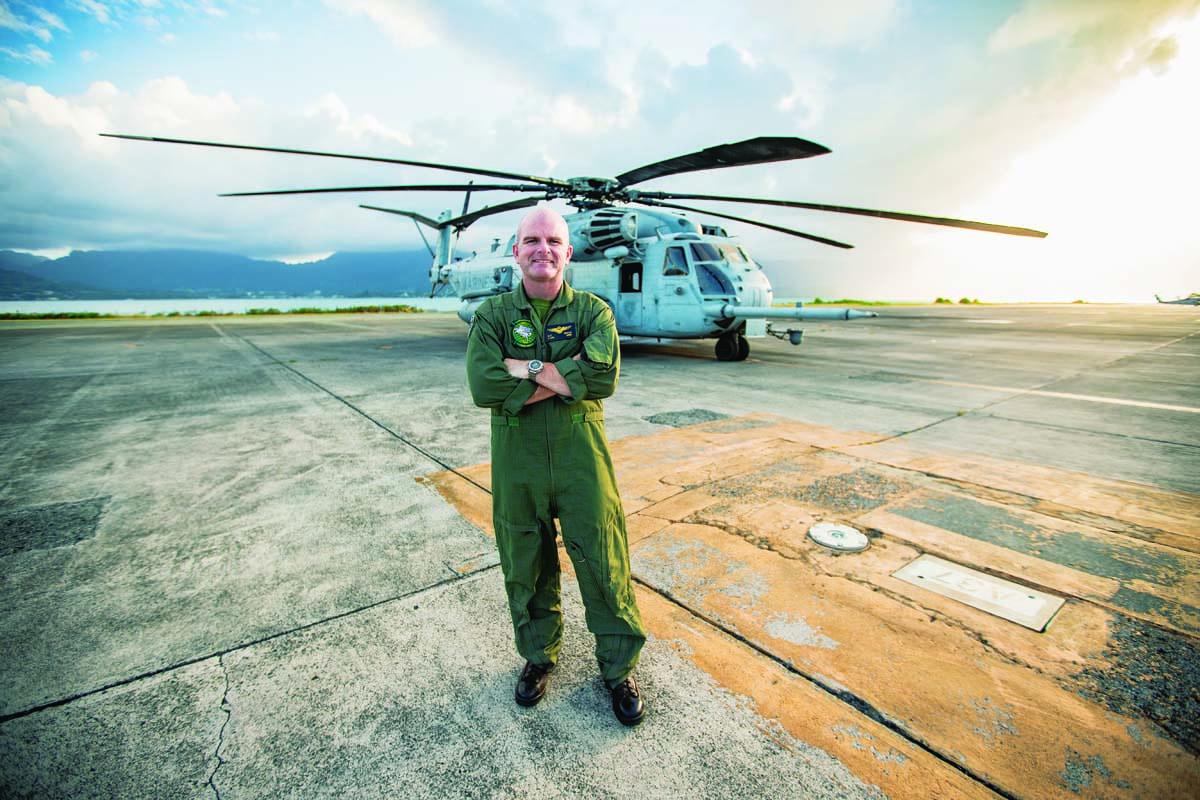 By Vicki-Ann Downing
For four years, Lt. Col. Kevin G. Hunter '99 flew President George W. Bush and President Barack Obama on Marine One in the United States and on trips throughout the world.
Hunter, who grew up in Shelton, Conn., was commissioned in the Marine Corps after graduating from Providence College with a degree in secondary education and history. He felt called to serve while student-teaching at North Providence High School, where his discussions about current events included the escalating war in Kosovo. He was the first in his family to join the military.
After graduating from Officer Candidate School, Hunter learned the Marines needed pilots. He went to Flight School and learned to fly the CH-53 Super Stallion, the Marine heavy-lift helicopter that can carry 16 tons of cargo, including vehicles, supplies, and personnel.
In 2007, after three combat deployments to Iraq in four years, Hunter joined Marine Helicopter Squadron One at Quantico, Va., which is responsible for transporting the president of the United States.
Today he is the commanding officer of Marine Heavy Helicopter Squadron 463 at Marine Corps Base Hawaii, Kaneohe Bay, Oahu. He commands 300 Marines and oversees a dozen Super Stallion helicopters in support of the 31st Marine Expeditionary Unit in Okinawa, Japan. Hunter and his wife, Jennifer, have a 12-year-old daughter, Victoria; a 10-year-old daughter, Samantha; and 8-year-old twin sons, Sean and Alexander.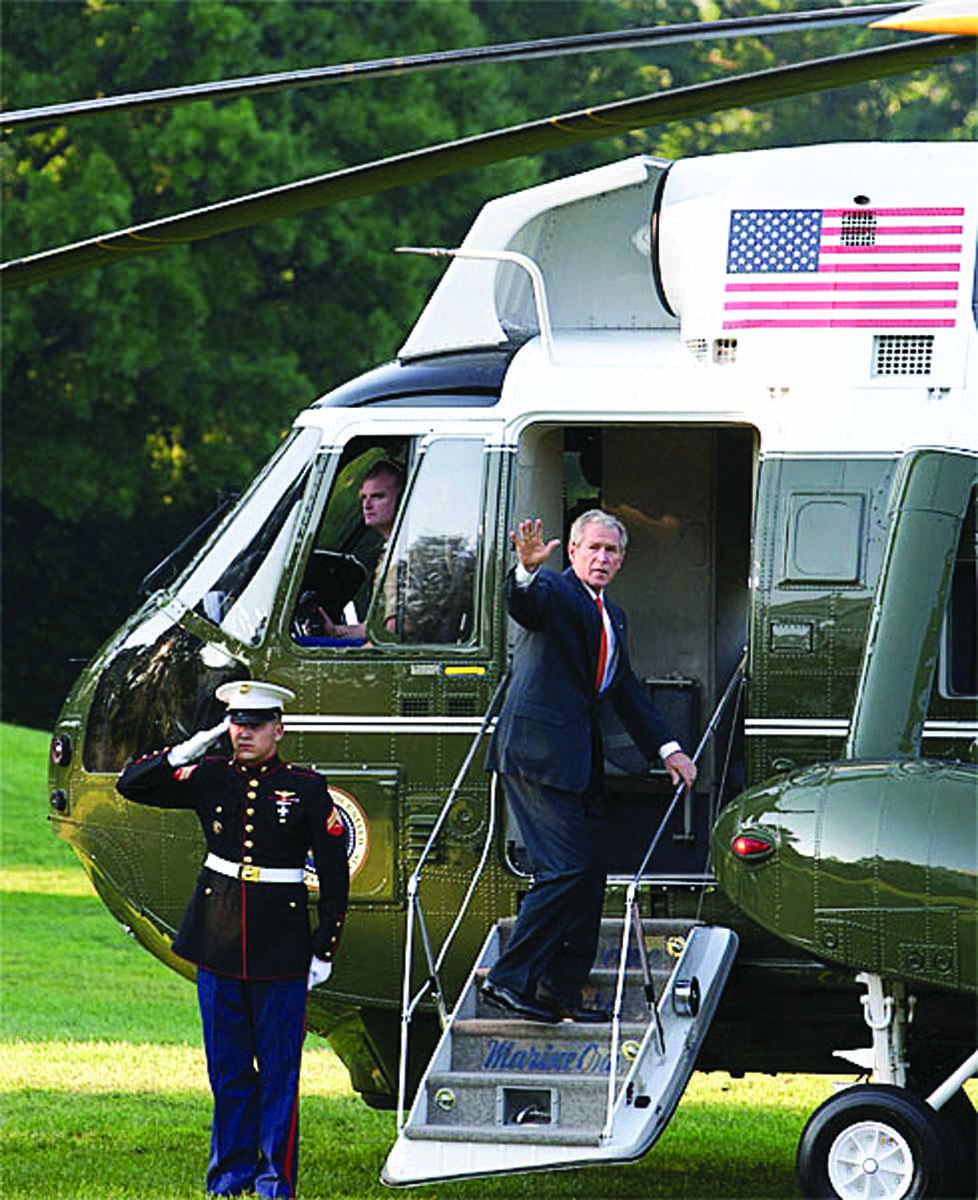 What is it like to be part of the team that transports the president?
The presidential squad is extremely selective. They take 15 applicants a year, so your qualifications and reputation have to be good. It's a large squadron with several dozen pilots in the ready room at any given time. The reason is that you go everywhere the president goes, including to and from the airport in Washington. We also fly the vice president in the national capital region. We fly foreign heads of state any time they are in the country. The president flies in two types of helicopters, a VH-3 and VH-60, and you learn to fly them when you're in the squadron.
Did you fly the president in other countries, too?
I flew President Bush in Japan for the G8 Summit, in Rome, and in Paris. With President Obama, I flew in Mexico City, Tokyo, and Poland. For the president's overseas trips, we fold up the helicopter and put it in the back of a really large airplane. We control it from the minute we leave Quantico until the president gets on it, and then we bring it back to Quantico when we are finished. Our passenger is so important, we want the helicopter transported on our own aircraft. We are the only ones that ever touch it. We make sure it's working correctly.
Does your heart beat a little faster when the president is your passenger?
Of course. You have the most important person in the free world in the back of your helicopter. Your heart rate is a little bit higher. The gravity is never lost on you that you are transporting the president of the United States and sometimes his family and closest staff members.
Did you ever have any close calls due to weather?
No. Part of that is because you understand the gravity every time you do it. You make the most conservative decisions. You always have the parts you need, the helicopters are immaculate, mechanically and aesthetically. Any time you have a question, you make the conservative call every time.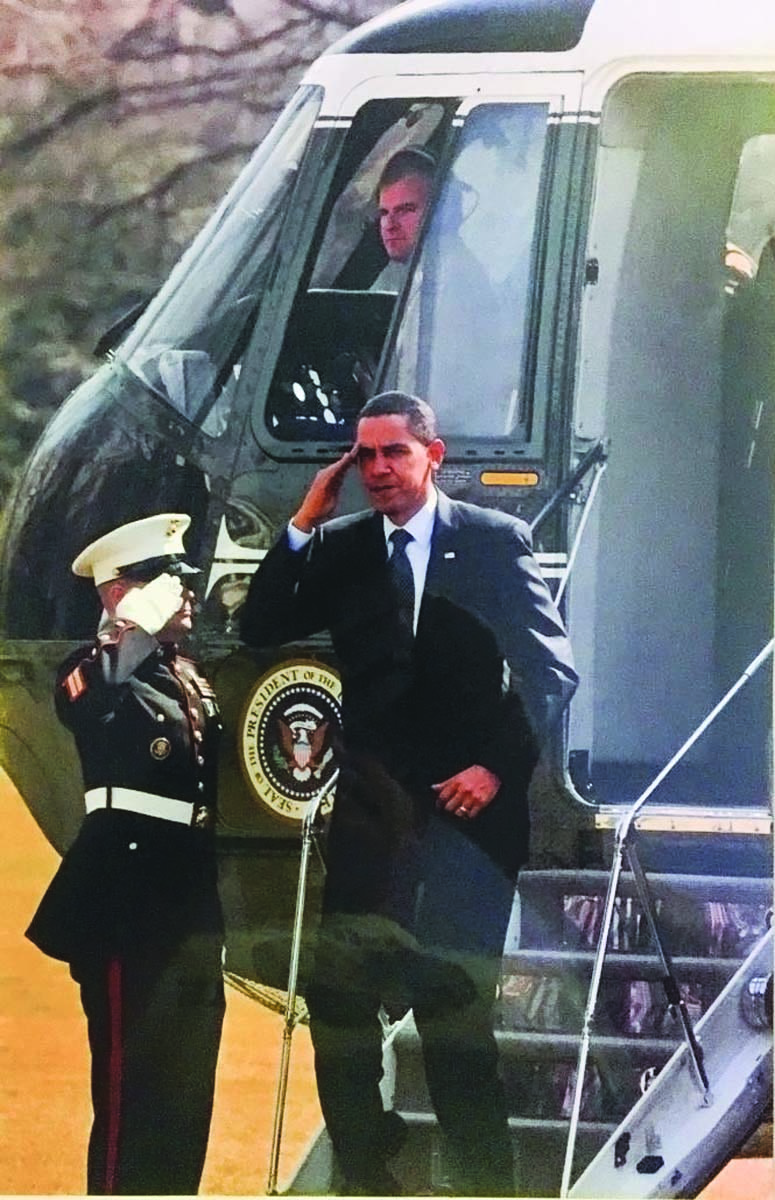 Did you get any personal time with the president?
I went mountain biking with President Bush in a large group at Camp David. That was really neat. He would include a couple of Marines and Secret Service members. President Obama didn't interact as much on a personal level, because this was early in his first term, but he would speak with you on the helicopter. He was always professional. If you work for the White House military office for a certain amount of time, you have the opportunity when leaving to meet the president in the Oval Office so he can thank you for the job you did. It was only a couple of minutes, but my wife and I were able to go and talk to President Obama.
Are helicopters difficult to fly?
Flying a helicopter is like driving a standard transmission car. Once you know how, you can go from car to car. There are just nuances. Helicopters are no more dangerous than airplanes. The only difference is that they don't glide if you lose all power. But they are completely different in their aerodynamics and physics.
How is your current assignment in Hawaii?
The job is really what makes it so nice for me, but the location is amazing for my family. We are an outdoor family. We take advantage of down time. In San Diego, I learned to surf. In Hawaii, there are beautiful hikes, beaches, and a lot of culture that we didn't know about until we arrived. We are trying to immerse ourselves in it.
You have been very successful in your career.
I have worked for, and worked with, some of the most amazing people. Being able to learn from them has made me a lot better than I was to start. I've had a tremendous opportunity to do a job that the country needs me to do. It's a great amount of responsibility and a tremendous opportunity. You know, my father worked for Sikorski for 45 years, and my brother works there now. Sikorski builds the helicopters that I fly. That didn't drive me into the Marines, but once I started flying these particular helicopters, it was my opportunity to give back to the country, my family, and the place where I grew up.