Get charged up at Frankenreads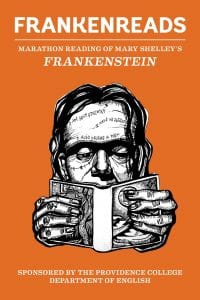 Join Providence College's Department of English for a marathon reading of Mary Shelley's Frankenstein on Wednesday, Oct. 31, to celebrate the 200th anniversary of the publication of the book.
The reading will begin at 10 a.m. in the Fiondella Great Room of the Ruane Center for the Humanties. It will end at 8:30 p.m. with a screening of the 1931 film starring Boris Karloff. Walk-in readers will be able to sign up for a time slot in the Great Room on the morning of Halloween and are encouraged to come in costume. Snacks will be served throughout the day, including pizza at lunch and candy in the evening.
The reading is part of the National Endowment for the Arts-funded Frankenreads Project, sponsored by the Keats-Shelley Association of America. Nearly 600 other colleges and universities worldwide will be reading the novel aloud and celebrating its publication in a variety of ways.