Koikou '16 named one of Africa's most promising young female leaders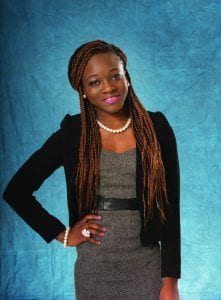 Marie-Florence Koikou '16 of Abidjan, Ivory Coast, was one of 28 women selected as a 2017 Moremi Initiative Leadership and Empowerment Development Fellow by the Moremi Initiative for Women's Leadership in Africa.
A finance major at PC, she was chosen after a competitive process that drew more than 2,500 applicants from 45 African nations. Selection was based on leadership promise, community service, and commitment to the advancement of women in Africa. The fellowship is for a year. It includes networking, media coverage, career planning, management, and access to opportunities and resources. Fellows also initiate and lead a community change project.
After working for one year with GE Africa, Koikou was one of just three people in Africa accepted for the prestigious GE Financial Management Program. Employees work in six-month rotations in four different countries over two years. She is in her first rotation in Johannesburg, South Africa. She has continued to work on her social ventures, including Ahiman Women (Women of Tomorrow), an empowerment and mentorship program she started for young girls. She also became deputy secretary of the alumni board of her all-female high school, Lycee Ste. Marie.