News & Announcements
Welcome to PC's New Tenure-Track Faculty
As we kick off the new academic year, please join me in welcoming PC's new tenure-track faculty. These faculty members, and a number of others, were officially welcomed to the College during Academic Convocation on August 26.
I'm excited to have such a quality group of teachers and scholars join the College community. The new full-time faculty, their home departments, and their terminal degree-granting institutions are:
Shatanjaya Dasgupta, Economics, University of Colorado, Ph.D.
Andrew Geist, Theology, University of Notre Dame, Ph.D.
Robert Hasson, Social Work, Boston College, Ph.D.
Melissa Huber, History, Duke University, Ph.D.
Stephen Long, Theology, University of Notre Dame, Ph.D.
Joseph Ribaudo, Engineering & Physics, University of Notre Dame, Ph.D.
Erin Schmidt, Theatre, Dance & Film, New School, M.F.A.
Osama Siddiqui, History, Cornell University, Ph.D.
2019-20 Randall Professor: Rev. Wilson D. (Bill) Miscamble
Rev. Wilson D. (Bill) Miscamble, C.S.C., a priest in the Congregation of Holy Cross, is the 2019-20 Rev. Robert Randall Distinguished Professor in Christian Culture. He joined the permanent faculty of the History Department at the University of Notre Dame in 1988. The Australian native was educated at the University of Queensland and at the University of Notre Dame.
Consortium for Faculty Diversity Teaching Post-Doc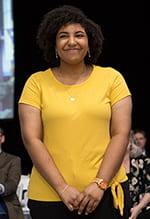 Last year, the College became a member of the Consortium for Faculty Diversity (CFD), which is committed to developing and facilitating academic careers for faculty from under-represented groups in liberal arts institutions. There are currently more than 50 member institutions, all of which share the goal of increasing faculty diversity.
Under the leadership of Dr. Maureen Outlaw, associate dean of the School of Arts and Sciences, I am pleased to report that her committee has recommended Dr. Alexandria H. Caple as our first CFD fellow. Dr. Caple, who recently joined the Department of Psychology faculty, holds a B.A. from East Carolina University, an M.A. from the University of North Carolina at Wilmington, and has just completed her Ph.D. from the University of Michigan. She specializes in cognition and cognitive neuroscience. Please take the opportunity to welcome Dr. Caple to our community and congratulate her on this honor. I'd also like to thank Dr. Outlaw and those who served on the selection committee.
As a CFD member, PC has committed to providing dissertation (pre-doctoral) or post-doctoral fellowships for emerging scholars that are part of the Consortium's network. Postdoctoral fellows receive compensation commensurate with the salary of a full-time, one-year faculty member with comparable qualifications. Fellows also have access to development resources, teach up to 60% of a full-time faculty member's course load, and participate in departmental seminars.
New 'Civ in London' Program Targets Sophomores, Faculty
The Center for Global Education is launching an exciting "Civ in London" program beginning in 2021. This annual spring program is intended to be an innovative and exciting experiential component of the Development of Western Civilization Program and will be offered for 30 to 44 sophomores each spring.
Students will take a four-credit DWC 202 colloquium team-taught by two members of PC's (ordinary) faculty and four other courses. One or two of the other courses will be taught by the PC faculty member and will fulfill a core proficiency or requirement. The other two or three courses will be offered by theInstitute for the International Education of Students/London or one of its partners at City University or at Queen Mary University.
Six teaching teams applied for the inaugural term in spring of 2021 and the DWC abroad committee selected Dr. Stephanie Boeninger (English) and Dr. Margaret Manchester (History and Classics) to teach the course, "Battlefields and Homefronts: The Making of War and Peace in Western Civilization."
News From Around the College