Eva Michelle Wheeler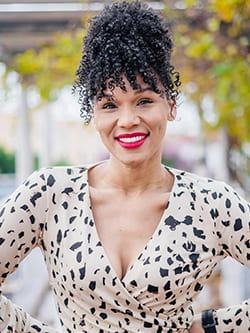 Associate Professor of Spanish and Black Studies, Foreign Language Studies / Black Studies Program
Ph.D., University of California, Santa Barbara, New York University School of Law
What are your thoughts on teaching?
I enjoy the opportunity to connect my scholarship and my teaching and to engage the students using the tools of my discipline(s).
Tell us about your field of expertise
As a sociocultural linguist, I use language as a lens for the interdisciplinary analysis of complex social phenomena such as race, beauty, cultural otherness, and diasporic positionalities. My primary research contributes to an interdisciplinary conversation on race in Latin America by positioning language as an analytical frame for examining racial classification in the Dominican Republic. The second strand of my research agenda analyzes the translation of racial(ized) language in film and literature produced by storytellers of the African diaspora. The third strand of my research explores the negotiation of positionality within, and with respect to, the African diaspora. In this line of inquiry, I examine the designation, description, and disposition of intersectional Latinx identities under the African American gaze in film, literature, and institutions of higher learning.
What hobbies/interests do you enjoy outside of academia?
Traveling, karaoke, fitness, binge watching television shows