Mona Jabbari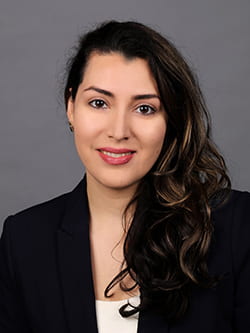 Assistant Professor, Finance
Ph.D., University of Oregon
What are your thoughts on teaching?
I strive for best teaching practices as well as constantly improving the delivery of resources used in my courses. I am devoted to foster a rich and comfortable environment in the class to motivate and help students with various backgrounds and learning styles. I prioritize accommodating diversity in the class environment and the school at large. Besides creating a sense of inclusivity, accommodating diverseness in classroom settings is one way of presenting all learners with equal opportunities. I am very keen to keep my learners motivated. To do so, I ensure my learners are heard, acknowledged, and recognized in all their positive efforts, including but not limited to their diverse thoughts and experiences.
I am dedicated to making a positive impact on student's experience and, most importantly, to leave a lasting impression on every student as I continuously seek to develop my skills as an educator.
Tell us about your field of expertise
I obtained my Ph.D. in Operations and Business Analytics. My research interests are focused on the areas of operations management and business analytics in the healthcare and supply chain management industries. Apart from data mining and mathematical modeling, I am also interested in game theory, multiple objective optimization, and multiple criteria decision making, to name a few areas of study.
I am particularly interested in the application of operations management in providing service for patients with chronic kidney disease. I believe it is crucial to examine approaches to improve the healthcare delivery network for these patients, particularly as the number of individuals with end-stage kidney disease continues to rise as a result of COVID-19. Although the precise effect of COVID-19 on the kidneys is unknown, five studies conducted in the United States indicate that between 19% and 43% of hospitalized COVID-19 patients developed Acute Kidney Injury (AKI). This growing patient population would certainly result in an increase in dialysis, posing significant cost challenges for the US healthcare system. My research is focused on decreasing the cost burden associated with dialysis therapy.
What hobbies/interests do you enjoy outside of academia?
Hiking and cooking