Patrick Saunders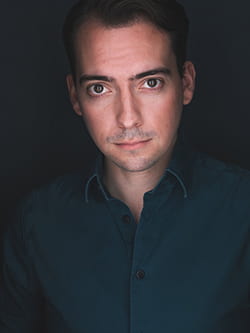 Visiting Assistant Professor, Theatre, Dance & Film
M.F.A., University of Essex
What are your thoughts on teaching?
As an actor and artist, it is my responsibility to produce a performance that communicates something to an audience. It's an endeavor that is necessarily meant to be shared. I consider teaching to be a similar extension for the pursuit of knowledge. More than imparting facts and theories to students, teaching allows us to keep these ideas in active dialogue with one another and helps us all work towards a more comprehensive understanding of the human condition.
Tell us about your field of expertise
Primarily focused within the discipline of acting, my areas of specialization include different acting styles (particularly presentational and period pieces), script analysis, and acting through verse and song. I have a special "soft-spot" for Shakespeare's works, having spent an educational residency at Shakespeare's Globe.
What hobbies/interests do you enjoy outside of academia?
In those moments offstage and outside of the classroom, I enjoy traveling both abroad and here in New England. Covid and "The Great British Bake Off" have encouraged me to flex my muscles in the kitchen with some (modest) success. Hoping to improve my Portuguese, mas eu preciso practicar mais …