Rebecca Moorman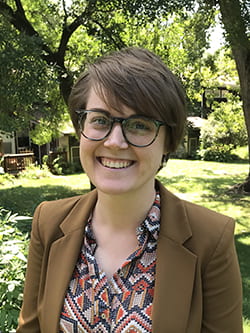 Assistant Professor of Classics, History and Classics
Ph.D., University of Wisconsin-Madison
What are your thoughts on teaching?
In my teaching, I emphasize Greek and Roman culture's enduring ability to grant students new perspectives for understanding and articulating difference. My teaching interests include Greek and Latin at all levels, Roman culture, satire, the ancient novel, and ancient horror. In the DWC program, I focus on marginalized texts and underrepresented voices, encouraging students to interrogate the authority of the Western classical tradition.
Tell us about your field of expertise
I am a classicist specializing in Republican and Imperial Latin literature. My research examines the aesthetics of disgust and multisensory experience in ancient literature, especially Latin poetry. I'm particularly interested in the ways that negative feelings like disgust can create new pathways for knowledge in Roman culture. My book project develops a productive model of disgust in Latin literature and Roman philosophy: how does disgust work in Roman writings to please and instruct ancient audiences?
What hobbies/interests do you enjoy outside of academia?
Off campus, you can find me snuggling with my two cats (Gatsby and Daisy), watching re-runs of Downton Abbey, or enjoying Rhode Island's delicious oysters with a G&T in my hand. I'm also building a miniature cafe with working lights and tiny little books, a quarantine project that has taken over my home office.