Rev. Bruno M. Shah, O.P.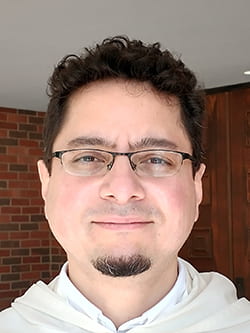 Assistant Professor, Theology
Ph.D., University of Notre Dame
What are your thoughts on teaching?
Communicating information in a way that is personally relevant, teachers lead students to ask better questions about the world and to build an intelligent framework for understanding their place in it. Teaching is ordered toward wisdom.
Tell us about your field of expertise
Systematic theology: how the Catholic faith's intellectual and practical claims are rendered articulate and coherent today, considering not only those who adhere to it but also those who ignore it and reject it.
What hobbies/interests do you enjoy outside of academia?
Baking bread, reading novels, rooting for the Yankees, praying to God, and remaining pastorally active.