Zachary Silberman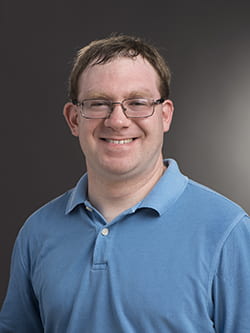 Visiting Assistant Professor of Physics, Engineering and Physics
Ph.D., Rochester Institute of Technology
What are your thoughts on teaching?
I consider teaching to be so important, especially in the sciences. Passing on a discipline's body of knowledge to the next generation is critical for future members of that discipline, as well as for the future of the discipline itself. I try to pass on my knowledge to students in such a way that they internalize the knowledge while still having fun along the way.
Tell us about your field of expertise
My research focuses on binary black hole systems, where two black holes are orbiting each other. These systems are often surrounded by disks of hot gas and dust, and I have been working on running computer simulations of these systems. Specifically, I am working on how to manipulate the magnetic fields of the systems in these simulations.
What hobbies/interests do you enjoy outside of academia?
Outside of academia, I enjoy participating in the sports of fencing and basketball. I also enjoy reading science fiction and fantasy novels.